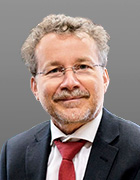 Prof. Axel Börsch-Supan, Ph.D.
Academic Career and Research Areas
The research of Professor Börsch-Supan focuses on the micro and macroeconomic effects of aging, the saving behavior of private households, the reform of the social security systems and issues relating to the labor and capital markets.
Professor Börsch-Supan studied economics and mathematics in Munich and Bonn and received a doctorate in economics from MIT (Cambridge, USA) in 1984. After working as an assistant professor of public policy at Harvard University (1984-1987) and as professor of economic theory at the University of Dortmund (1987-1989) he was professor of macroeconomics and economic policy at the University of Mannheim (1989-2011). In his role as director of the Max Planck Institute for Social Law and Social Policy in Munich, he has headed the Munich Center for the Economics of Aging (MEA) since 2011. Professor Börsch-Supan is a full member of the Berlin-Brandenburg Academy of Sciences and German National Academy of Sciences Leopoldina. He also coordinates the Survey of Health, Ageing and Retirement in Europe (SHARE).
Furthermore, Professor Börsch-Supan is a member of the Council of Advisors to the German Economics Ministry (chair 2004-08), a member of the German federal governments' Social Security Reform Commission and has served as a consultant to the European Commission, the World Bank, the OECD and several foreign governments.
Key Publications
Börsch-Supan A, Härtl K, Ludwig A: "Aging in Europe: Reforms, international diversification and behavioral reactions". American Economic Review, Papers & Proceedings. 2014; 104 (5): 1-7.
Abstract
Börsch-Supan A: "Myths, Scientific Evidence and Economic Policy in an Aging World". Journal of the Economics of Ageing. 2013; 1-2: 3-15.
Abstract
Boeri T, Börsch-Supan A, Tabellini G: "Would you like to Reform the Pension System? The Opinions of European Citizens". American Economic Review. 2002; 92: 396-401.
Abstract
Börsch-Supan A, Schnabel R: "Social Security and Declining Labor-Force Participation in Germany". American Economic Review. 1998; 88 (2): 173-178.
Abstract
Börsch-Supan A: "On the Compatibility of Nested Multinominal Logit Models with Utility Maximization". Journal of Econometrics. 1990; 43(3): 373-388.
Abstract