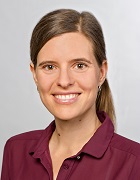 Prof. Dr. Yolanda Demetriou
Academic Career and Research Areas
Professor Demetriou's (b. 1983) research aims to improve our understanding of the mechanisms of physical activity behavior using theoretical and empirical findings, and thus to contribute to higher physical activity levels in children and adolescents. In the context of the social-ecological model and based on insights from empirical research, she develops and evaluates sex/gender inclusive intervention programs for children and adolescents to promote physical activity. In fulfilling the university's "third mission" of outreach and engagement with broader society, she initiates knowledge transfer to target groups outside of the university.
Professor Demetriou studied sport science, pedagogics and psychology at the University of Freiburg (Magister Artium). Subsequently, she was an academic assistant at the Institute of Sports Science at the Eberhard Karls University, Tübingen and received a PhD in 2012. Professor Demetriou has been a professor of educational science in sport and health at TUM since 2014.
Awards
German Association of Sport Science publication award "Sportwissenschaftlicher Nachwuchs" (young researchers in sports science) (2013)
Demetriou Y, Hebestreit A, Reimers AK, Schlund A, Niessner C, Schmidt S, Finger J, Mutz M, Völker K, Vogt L, Woll A & Bucksch J: "Results from Germany's 2018 Report Card on Physical Activity for Children and Youth". Journal of Physical Activity and Health. 2018; 15(S2): 363-5.
Abstract
Schüller I, Demetriou Y: "Physical activity interventions promoting social competence at school: A systematic review". Educational Research Review. 2018; 25: 39-55.
Abstract
Demetriou Y, Sudeck G, Höner O: "Indirekte Gesundheitseffekte des Unterrichtsprogramms "HealthyPEP": Ergebnisevaluation unter Berücksichtigung der Programminhalte und des Implementierungsgrades im Sportunterricht". Sportwissenschaft. 2014; 44(2): 86-98.
Abstract
Demetriou Y: Health promotion in physical education. Development and evaluation of the eight week PE programme "HealthyPEP" for sixth grade students in Germany. Hamburg: Czwalina, 2013.
Abstract
Demetriou Y, Höner O: "Physical activity interventions in the school setting: A systematic review". Psychology of Sport and Exercise. 2012; 13(2): 186-196.
Abstract