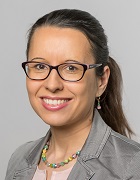 Prof. Dr. Natalie Germann
Academic Career and Research Areas
Professor Germann's (b. 1982) research group focuses on the rheology, i.e., the flow behavior, of viscoelastic fluids that are of industrial relevance. The reason for the unusual rheological properties of viscoelastic fluids is their microstructural dynamics. To establish a more fundamental understanding of viscoelastic fluids, her research group investigates the relationship between their rheology and their microstructure. The research approach combines thermodynamic modeling and numerical simulation with laboratory experiments.
Professor Germann studied food science at ETH Zurich. In 2011 she received a PhD from the same institution. From 2011 to 2014 she worked as a researcher and lecturer at the University of Delaware, USA. Since 2014 she has been assistant professor for fluid dynamics of complex biosystems at TUM. She has acquired international experience in the USA (University of Delaware), Australia (University of New South Wales), and Japan (National Food Research Institute).
Awards
TUM Teaching Excellence Award (2016)
WM-NSF Travel Grant Award (2012)
UD International Travel Award (2012)
Key Publications
Germann N: "Shear banding instabilities in polymeric solutions". Current Opinion in Colloid and Interface Science – Special issue 'Outstanding Young Researchers'. 2019; 39: 1-10.
Abstract
Hooshyar S, Germann N: "Shear banding in 4:1 planar contraction". Polymers. 2019; 11(3): 417.
Abstract
Malhotra D, Pan S, Rüther L, Goudoulas TB, Schlippe G, Voss W, and Germann N: "Linear viscoelastic and microstructural properties of native male human skin and in vitro 3D reconstructed skin models". Journal of the Mechanical Behavior of Biomedical Materials. 2019; 90: 644-654.
Abstract
Ghaemi A, Germann N: "Nonequilibrium thermodynamic modeling of ternary fluid flows". International Journal of Multiphase Flow. 2019; 111: 310-314.
Abstract
Goudoulas TB, Germann N: "Phase transition kinetics and rheology of gelation-alginate mixtures". Food Hydrocolloids. 2017; 66: 49-60.
Abstract