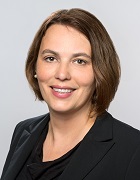 Academic Career and Research Areas
Prof. Tanja Gulder is interested in the development of new, environmentally benign and economic catalytic systems by emulating nature's strategies (enzyme mimicking). Her work focuses on catalytic halogenations and their application for the development of new antibiotics and non-invasive theranostics.
Prof. Tanja Gulder studied chemistry at the University of Würzburg. After earning her doctorate with distinction at the University of Würzburg, she pursued postdoctoral studies at the Scripps Research Institute (La Jolla, CA, USA). In 2011, she started her independent career supported by the Fonds der Chemischen Industrie at RWTH Aachen. From 2014 to 2017 she worked as an Emmy Noether junior research group leader at TUM. In 2018 Prof. Gulder was appointed as Heisenberg Professor for Biomimetic Catalysis at TUM.
Awards
Heisenberg Professorship of the DFG (2017)
Dr. Otto Röhm Award (2015)
Emmy Noether Fellowship of the DFG (2013)
Fast-Track Program of the Robert Bosch Foundation (2012)
Liebig Fellowship (2010)
Arnold AM, Pöthig A, Drees M, Gulder T: "NXS, Morpholine, and HFIP: The Ideal Combination for Biomimetic Haliranium-induced Polyene Cyclizations". J. Am. Chem. Soc. 2018; 140(12): 4344–4353.
Abstract
Kohlhepp SV, Gulder T: "Hypervalent Iodine(III) Fluorinations of Alkenes and Diazo Compounds: New Opportunities in Fluorination Chemistry". Chem. Soc. Rev. 2016; 45(22): 6270-6288.
Abstract
Ulmer A, Brunner C, Arnold AM, Poethig A, Gulder T: "A Fluorination/Aryl Migration/Cyclization Cascade for the Metalfree Synthesis of Fluoro Benzoxazepines". Chem. Eur. J. 2016; 22(11): 3660-3664.
Abstract
Frank A, Seel CJ, Groll M, Gulder T: "Characterization of a Cyanobacterial Haloperoxidase and Evaluation of its Biocatalytic Halogenation Potential". ChemBioChem. 2016; 17(21): 2028-2032.
Abstract
Patzelt C, Pöthig A, Gulder T: "Iodine(III) Catalyzed Cascade Reactions enabling a Direct Access to β-Lactams and α-Hydroxy-β-Amino Acids". Org. Lett. 2016; 18(14): 3466-3469.
Abstract