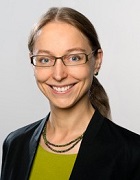 Prof. Dr. Caroline Gutjahr
Academic Career and Research Areas
Professor Gutjahr investigates the molecular mechanisms which determine the formation and functioning of the widespread arbuscular mycorrhiza symbiosis between plants and beneficial soil fungi. Her research focuses in particular on the role of plant hormones and transcriptional networks in the development of the symbiosis. The fungus can enhance nutrition and increase stress resistance of plants. For these reasons, there is increasing interest in the use of the fungus in sustainable agricultural practices. Therefore, Professor Gutjahr also investigates the genetic underpinnings of fungus-mediated increases in plant-performance with the aim to enable breeding of mycorrhiza-optimized crops.
Professor Gutjahr studied biology at the Universities of Freiburg and Aberdeen. She then spent one year as a researcher at the University of Turin. Her PhD was started at the University of Geneva and concluded at the University of Lausanne. After a short stay as a postdoctoral researcher in Lausanne, she joined the LMU Munich as leader of a research group. Since 2015, she has been supported by the Emmy Noether program of the German Research Foundation (DFG). She has been Professor of Plant Genetics at the TUM since September 2017.
Awards
President's Medal, Society of Experimental Biology (UK) (2018)
ERC Starting Grant (2017)
Valent BioSciences Young Scientist Award, Plant Growth Regulation Society of America (2017)
Emmy Noether Fellowship, German Research Foundation (2014)
Young Investigator Excellence Award, University of Lausanne (2010)
Carbonnel S, Das D, Varshney K, Kolodziej M, Villaécija-Aguilar JA, Gutjahr C: "The karrikin signaling regulator SMAX1 controls Lotus japonicus root and root hair development by suppressing ethylene biosynthesis". Proceedings of the National Academy of Science, USA. 2020; 117: 21757-21765.
Abstract
Keymer A, Pimprikar P, Wewer V, Huber C, Brands M, Bucerius SL, Delaux PM, Klingl V, von Roepenack-Lahaye E, Wang TL, Eisenreich W, Dörmann P, Parniske M, Gutjahr C "Lipid transfer from plants to arbuscular mycorrhiza fungi". eLife. 2017; 6:e29107.
Abstract
Pimprikar P, Carbonnel S, Paries M, Katzer K, Klingl V, Bohmer MJ, Karl L, Floss DS, Harrison MJ, Parniske M, Gutjahr C: "A CCaMK-CYCLOPS-DELLA complex activates transcription of RAM1 to regulate arbuscule branching". Current Biology. 2016; 26: 987-998.
Abstract
Gutjahr C, Gobbato E, Choi J, Riemann M, Johnston MG, Summers W, Carbonnnel S, Mansfield C, Yang SY, Nadal M, Acosta IF, Takano M, Jiao WB, Schneeberger K, Kelly KA, Paszkowski U: "Rice perception of arbuscular mycorrhizal fungi requires the karrikin receptor complex". Science. 2015; 350: 1521-1524.
Abstract
Gutjahr C, Sawers RJH, Marti G, Andres-Hernandez L, Yang SY, Casieri L, Angliker H, Oakeley E, Wolfender JL, Abreu-Goodger C, Paszkowski U: "Transcriptome diversity among rice root-types during asymbiosis and interaction with arbuscular mycorrhizal fungi". Proceedings of the National Academy of Science, USA. 2015; 112: 6754-6759.
Abstract