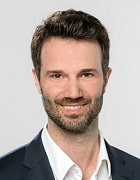 Academic Career and Research Areas
Professor Hirsch's research focuses on the competitiveness of agribusiness firms. This involves investigating the drivers of vertical and horizontal integration, production flexibility, innovation, efficiency, and profitability. Furthermore, his research deals with the effect of oligopolistic market structures at different stages of the food supply chain on the performance of firms in up- and downstream sectors. Professor Hirsch's research has a strong empirical orientation and is based on a broad range of theoretical microeconomic approaches and econometric methods.
Professor Hirsch studied economics at the University of Bonn, where he earned his doctoral degree in agricultural sciences in 2014. He then worked as a postdoctoral researcher at the University of Bonn (2014-2016) and the Department of Management, Technology and Economics at ETH Zurich (2016-2018). During this time he also worked as a visiting research fellow at both the University of Connecticut and Arizona State University. In April 2018 he was appointed Professor of Agricultural and Food Economics at TUM School of Management.
Awards
Best presentation award of the Swiss Society for Agricultural Economics and Rural Sociology (SSA) at the annual meeting (2017)
Key Publications
Hirsch S: "Successful in the long run? A meta-regression analysis of persistent firm profits". Journal of Economic Surveys. 2018; 32(1): 23-49.
Abstract
Finger R, Dalhaus T, Allendorf J, Hirsch S: "Determinants of downside risk exposure of dairy farms". European Review of Agricultural Economics. 2018; in press.
Gschwandtner A, Hirsch S: "What drives firm profitability? A comparison of the US and EU food processing industry". The Manchester School. 2018; 86(3): 390-416.
Abstract
Hoffmann J, Hirsch S, Simons J: "Identification of spatial agglomerations in the German food processing industry". Papers in Regional Science. 2017; 96(1): 139-162.
Abstract
Hirsch S, Gschwandtner A: "Profit persistence in the food industry: evidence from five European countries". European Review of Agricultural Economics. 2013; 40(5): 741-759.
Abstract