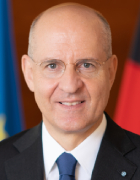 Prof. Dr. Klemens Joos
Career
From 1988 to 2021, Prof Joos first studied, then earned his doctorate and finally taught at the Faculty of Business Administration at Ludwig Maximilian University Munich (LMU). In 1998, with the organisational science approach of his doctoral thesis, he demonstrated the significance of the new primary legislative framework of the EU for business administration and lobbying. Since April 2021, Prof Joos has been visiting lecturer at the Technical University of Munich (TUM), where he was appointed honorary professor for Political Stakeholder Management on February 10, 2022.
Prof Joos is Managing Partner of EUXEA Holding GmbH (located in Munich).
The EUXEA Holding GmbH is a group of companies with over 100 employees
and currently 21 companies which are especially active in the areas of Real Estate (i. a. LUXARLON Real Estate BVBA), Governmental Relations (EUTOP Group), Emerging Technologies (i. a.
OnePager GmbH), Services (i. a. EUXEA Administration GmbH) and Handcraft
(Joos Holzbau GmbH).