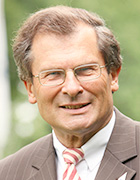 Prof. Dr. Josef Nassauer
Career
Professor Nassauer completed his studies in 1974. Subsequently he was involved in setting up the newly established Chair of Food Process Engineering held by Professor Dr. H.G. Kessler (pilot plant, teaching, contract research).
As of 1986 he played a major role in setting up a new R&D Centre for Kraft Foods Europe (pilot plant, staff, food process development services). He was responsible for the management of innovation and technology transfer projects, coordinating between Kraft's major R&D locations in Munich, Chicago and Melbourne.
As of 1995 he was involved in setting up Bayern Innovativ GmbH, a program initiated by the Bavarian State Government as a corporation for innovation and technology transfer. The program concentrates its efforts on ten branches of industry and technologies and is designed to foster cross-industry collaboration, particularly among SME's. The network currently comprises some 55,000 companies and 500 institutes in 50 countries.
Functions
Chief executive of Bayern Innovativ GmbH, Nuremberg (1995-2012)

Director of engineering and process development, Kraft Foods Europe R&D, Munich (1986-1995)

Member of the Executive Committee of Leatherhead FDRA, England (1992-1995)