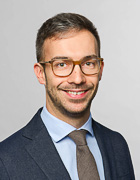 Prof. Dr. Michael Kurschilgen
Academic Career and Research Areas
Michael Kurschilgen (b. 1982) conducts research at the interface between economics, social psychology and law. The goal of his research is to understand why certain social norms develop, what influences their stability and how they correspond to the preferences and expectations of the individuals concerned. Kurschilgen is particularly interested in the concept of normativity, i.e. categorizing behavior as being "right" or "wrong".
Kurschilgen studied economics at the University of Bonn, the University of Maastricht and Sciences Po in Paris from 2002 to 2007. He acquired his doctoral degree in 2013 from the University of Jena within the framework of Max Planck Graduate Program "IMPRS Uncertainty". He continued his academic career at the Max Planck Institute (MPI) for Research on Collective Goods in Bonn. Visiting researcher positions have taken him to UC Berkeley, EUI in Florence and the University of Bologna. He has been professor for managerial economics at TUM School of Management since November 2015.
Awards
Selected as a member of the Young Academy of Sciences and Humanities of the German state of North Rhine-Westphalia
Key Publications
Kurschilgen M, Marcin I: "Communication is More than Information Sharing: The Role of Status-Relevant Knowledge". Games and Economic Behavior. forthcoming.
Abstract
Kurschilgen M, Morell A, Weisel O: "Internal conflict, market uniformity, and transparency in price competition between teams". Journal of Economic Behavior and Organization. 2017; 144: 121-132.
Abstract
Kurschilgen M: "Coercion and Consent: Comment". Journal of Institutional and Theoretical Economics. 2014; 170 (1): 79-82.
Abstract
Engel C, Kurschilgen M: "The Coevolution of Behavior and Normative Expectations: an Experiment". American Law and Economics Review. 2013; 15 (2): 578-609.
Abstract
Engel C, Kurschilgen M: "Fairness Ex Ante & Ex Post: Experimentally Testing Ex Post Judicial Intervention into Blockbuster Deals". Journal of Empirical Legal Studies. 2011; 8 (4): 682–708.
Abstract