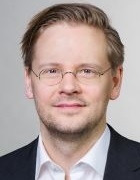 Academic Career and Research Areas
Professor Menze is working in the field of medical image computing. He develops algorithms that analyze biomedical images using functional and probabilistic models from machine learning, computer vision, and biophysics. The emphasis of this work is on applications in clinical neuroimaging and the personalized modeling of tumor growth. He has organized workshops on medical computer vision and on neuroimaging at MICCAI, NIPS and CVPR, served as a member of the program committee of MICCAI and is a member of the editorial board of the Medical Image Analysis journal.
Professor Menze studied physics in Heidelberg (Germany) and Uppsala (Sweden) and obtained a PhD in computer science from Heidelberg University in 2007. He subsequently moved to Boston (USA) where he worked as a postdoctoral researcher at Harvard University, Harvard Medical School, and MIT. This was followed by senior research position at Inria in Sophia-Antipolis (France) and at ETH Zurich (Switzerland). In 2013 he was the first scholar to have been appointed a Rudolf Moessbauer Professor at TUM. In 2019 he was visiting professor at Maastricht University. At TUM he heads the "Image-based Biomedical Modeling Group" at the Munich School of Bioengineering and the Center for Translational Cancer Research.
Awards
MICCAI Young Scientist Publication Impact Award (2015)
MICCAI Medical Image Analysis Best Paper Award (2015)
Leopoldina research fellow of the German National Academy of Sciences Leopoldina (2009)
DFG research fellowship (2008)
Fellow of the German National Academic Foundation (1998)
Menze BH, Jakab A, Bauer S, Kalpathy-Cramer J, Farahani K, Kirby J, Burren Y, Porz N, Slotboom J, Wiest R, Lanczi L, Gerstner E, Weber MA, Arbel T, Avants BB, Ayache N, Buendia P, Collins DL, Cordier N, Corso JJ, Criminisi A, Das T, Delingette H, Demiralp C, Durst CR, Dojat M, Doyle S, Festa J, Forbes F, Geremia E, Glocker B, Golland P, Guo X, Hamamci A, Iftekharuddin KM, Jena R, John NM, Konukoglu E, Lashkari D, Mariz JA, Meier R, Pereira S, Precup D, Price SJ, Raviv TR, Reza SM, Ryan M, Sarikaya D, Schwartz L, Shin HC, Shotton J, Silva CA, Sousa N, Subbanna NK, Szekely G, Taylor TJ, Thomas OM, Tustison NJ, Unal G, Vasseur F, Wintermark M, Ye DH, Zhao L, Zhao B, Zikic D, Prastawa M, Reyes M, Van Leemput K: "The Multimodal Brain Tumor Image Segmentation Benchmark (BRATS)." IEEE Trans Med Imaging. 2015; 34(10): 1993-2024.
Abstract
M Rempfler, Schneider M, Ielacqua GF, Xiao X, Stock SR, Klohs J, Szekely G, Andres B, Menze BH: "Reconstructing cerebrovascular networks under local physiological constraints by integer programming." Medical Image Analysis. 2015; 25(1): 86-94.
Abstract
Menze BH, Ur JA: "Mapping patterns of long-term settlement in Northern Mesopotamia at a large scale". Proceedings of the National Academy of Science of the United States. 2012; 109: E778-787.
Abstract
Menze BH, Van Leemput K, Honkela A, Konukoglu E, Weber MA, Ayache N, and Golland P: "A generative approach for image-based modeling of tumor growth". Inf Process Med Imaging. 2011; 22: 735-47.
Abstract
Menze BH, Van Leemput K, Lashkari D, Weber MA, Ayache N, Golland P: "A generative model for brain tumor segmentation in multi-modal images". Med Image Comput Comput Assist Interv. 2010; 13(2):151-159.
Abstract