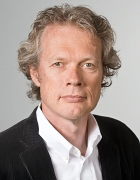 Prof. Dipl.-Ing Florian Musso
Academic Career and Research Areas
Professor Musso (b. 1956) carries out research in the fields of construction materials and subsystems in industrial construction. After studying architecture at Stuttgart University and UVA in Charlottesville, USA, Professor Musso worked as an architect and assistant at ETH Zurich, ETH Lausanne and RWTH Aachen. Before taking up his post at TUM in 2002, he was a lecturer at EIA Fribourg, Switzerland, and a guest professor at the University of Pennsylvania in Philadelphia, USA. He was also a guest professor at the University of Arizona in Tucson, USA in 2005.
Together with Claudine Lorenz, Professor Musso has been running an architect's office in Sion, Switzerland since 1988 and in Munich since 2002.
Key Publications
Giebeler G, Fisch R, Krause H, Musso F, Petzinka KH, Rudolphi A: Atlas Sanierung. München: Detail Verlag, 2008.
Krippner R, Musso F: Fassadenöffnungen. Basel: Birkhäuser Basics, 2007.
Büro für Entscheidungsvorbereitung und Bauforschung Stuttgart: Baukosten-Sparfibel. Bonn: Bundesministerium für Raumordnung, Bauwesen und Städtebau, 1993.
Kleinen M, Lewitzki W, Musso F: Holzbaudetails - Baukonstruktionen, Bauphysik, Kosten, Beispiele. Düsseldorf: Werner-Verlag, 1989.