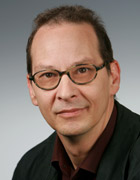 Prof. Dr. Michael Schemann
Academic Career and Research Areas
Prof. Schemann's (b. 1956) research focuses on the neural regulation of gastrointestinal functions. With the aid of ultrafast imaging, he investigates the neurophysiology and neuropharmacology of the human enteric nervous system. As well as exploring basic neurobiological issues, he also examines the role of the enteric nervous system in the pathogenesis of functional and inflammatory diseases of the gut. Another aspect of his work involves identifying new targets to treat these diseases. In addition to neurophysiological studies, his research investigates the function of mucous membranes, immune cells and musculature.
After studying agricultural biology, Prof. Schemann did his doctorate (1985) and lecturer qualification (1990) at the University of Hohenheim. During that time, a German Research Foundation grant enabled him to work at Ohio State University, USA. He received a Heisenberg grant to work at the Max Planck Institute for Physiological and Clinical Research in Bad Nauheim. In 1994, he became professor of vegetative physiology at the University of Veterinary Medicine in Hannover. Since 2002, he has been full professor of human biology at TUM.
Awards
Oskar Medical Award (2012)
Martin Wienbeck Award (2012)
1st ANMS Tripuraneni Oration Award (2010)
Member of the Academy of Sciences of Bologna Institute (2006)
5th Janssen Research Award (2001)
Key Publications
Enck P, Aziz Q, Barbara G, Farmer AD, Fukudo S, Mayer EA, Niesler B, Quigley EMM, Rajilic-Stojanovic M, Schemann M. Schwille-Kiuntke J, Simren M, Zipfel S, Spiller RC. "Irritable bowel syndrome". Nat. Rev. Dis. Primers. 2016; 2: 16014.
Abstract
Krueger D, Michel K, Zeller F, Demir IE, Ceyhan GO, Slotta-Huspenina J, Schemann M. "Neural influences on human intestinal epithelium in vitro". J Physiol. 2016; 594: 357-72.
Abstract
Buhner S, Li Q, Vignali S, Barbara G, De Giorgio R, Stanghellini V, Cremon C, Zeller F, Langer R, Daniel H, Michel K, Schemann M: "Activation of human enteric neurons by supernatants of colonic biopsy specimens from patients with irritable bowel syndrome". Gastroenterology. 2009; 137: 1425-1434.
Abstract
Schicho R, Krueger D, Zeller F, Von Weyhern CW, Frieling T, Kimura H, Ishii I, De Giorgio R, Campi B, Schemann M: "Hydrogen sulfide is a novel prosecretory neuromodulator in the Guinea-pig and human colon". Gastroenterology. 2006; 131: 1542-1552.
Abstract
Schemann M, Ehrlein HJ: "Postprandial patterns of canine jejunal motility and transit of luminal content". Gastroenterology. 1986; 90: 991-1000.
Abstract