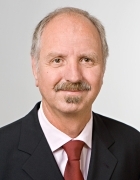 Prof. Dr. Jürgen Schlegel
Academic Career and Research Areas
The core research areas of Professor Schlegel (b.1956) are the molecular tumor biology of gliomas, molecular imaging, stem cell biology and the neurobiology of performance in sport. His main diagnostic interests are in the fields of neuropathology, brain tumors, muscle biopsies, nerve biopsies and liquor cytology.
Professor Schlegel studied medicine at the universities of Marburg and Bern. He completed his PhD in 1990 at the University of Marburg and acquired his postdoctoral teaching qualification (habilitation) in neuropathology in 1998 at the University of Marburg. In 1999 Professor Schlegel was given a faculty appointment at TUM.
Berezowska S, Diermeier-Daucher S, Brockhoff G, Busch R, Duyster J, Grosu A-L, Schlegel J: "Effect of additional inhibition of HER2 with the bispecific tyrosine kinase inhibitor AEE788 on the resistance to specific EGFR-inhibition in glioma cells". Int J Mol Med. 2010; 26: 713-721.
Abstract
Rasper M, Piontek G, Teufel J, Ringel F, Zimmer C, Schäfer A, Schlegel J:
"Aldehyde Dehydrogenase 1 Positive Glioblastoma Cells Show Brain Tumor Stem Cell Capacity". Neuro-Oncol. 2010; 12: 1024-1033.
Abstract
Rappl A, Piontek G, Schlegel J: "EGFR-dependent migration of glial cells is mediated by reorganisation of N-cadherin". J Cell Sci. 2008; 121: 4089 – 4097.
Hafezparast M, Klocke R, Ruhrberg C, Marquardt A, Ahmad-Annuar A, Bowen S, Lalli G, Witherden AS, Hummerich H, Nicholson S, Morgan PJ, Oozageer R, Priestley JV, Averill S, King VR, Ball S, Peters J, Toda T, Yamamoto A, Korthaus D, Augustin M, Wattler S, Wabnitz P, Dickneite C, Lampel S, Peraus G, Popp A, Rudelius M, Schlegel J, Fuchs H, Hrabe de Angelis M, Russ AP, Schiavo G, Shima DT, Stumm G, Martin JE, Fisher EMC: "Mutations in Dynein Link Motor Neuron Degeneration to Defects in Retrograde Transport." Science. 2003; 300: 808-812.
Abstract
Rudelius M, Daldrup-Link HE, Heinzmann U, Piontek G, Settles M, Link TM, Schlegel J: "Highly efficient paramagnetic cellular labeling of neuronal stem cells." Eur. J. Nucl. Med. Mol. Imaging. 2003; 30: 1038-1044.
Abstract