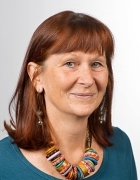 Prof. Dr. Angelika E. Schnieke
Professorship
(retired since 2022)
Academic Career and Research Areas
Professor Schnieke (b. 1956) has many years of experience in the manufacture of pharmaceutical products in the milk of livestock. Her Chair at TUM conducts research into the application of biotechnology in large animals to address problems in agricultural sciences in general and biomedicines in particular. Her research interests are in the areas of animal stem cells, the genetic modification of mammals for regenerative medicine and the production of animal models of human diseases.
Professor Schnieke studied bioengineering in Hamburg and obtained her D.Phil in Medicine from the University of Edinburgh. After her studies she worked at a number of German and international research institutes (Heinrich-Pette Institute in Hamburg; Whitehead Institute at MIT in Boston, Ludwig Institute in Bern and Colorado State University). Before being appointed professor at TUM she worked at biotechnology company PPL Therapeutics, Edinburgh, first as Head of Molecular Biology and later as Assistant Director of Research.
Key Publications
McCreath KJ, Howcroft J, Campbell KHS, Colman A, Schnieke AE, Kind AJ: "Production of gene-targeted sheep by nuclear transfer from cultured somatic cells". Nature. 2000; 405: 1066-1069.
Abstract
Evans MJ, Gurer C, Loike JD, Wilmut I, Schnieke AE, Schon EA: "Mitochondrial genotypes in nuclear transfer derived cloned sheep". Nature Genetics. 1999; 23: 90-93.
Abstract
Shiels PG, Kind AJ, Campbell KH, Waddington D, Wilmut I, Colman A, Schnieke AE: "Analysis of telomere lengths in cloned sheep". Nature. 1999; 399: 316-317.
Wilmut I, Schnieke A, McWhir J, Kind AJ, Campbell KHS: "Viable offspring derived from foetal and adult mammalian cells". Nature. 1997; 385: 810-813.
Schnieke AE, Kind AJ, Ritchie WA, Mycock K, Scott AR, Ritchie M, Wilmut I, Colman A, Campbell KHS: "Human factor IX transgenic sheep produced by transfer of nuclei from transfected fetal fibroblasts". Science. 1997; 278: 2130-2133.
Abstract