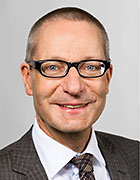 Prof. Dr. Alain Thierstein
Academic Career and Research Areas
Alain Thierstein is involved in research on urban and metropolitan development; spatial impact of the knowledge economy, in particular the visualization of non-physical firm relationships as well as spatial interaction of locational choice of residence, work and mobility; the role of star architecture for repositioning medium sized cities.
Alain Thierstein, PhD, is full professor for urban development at the Technical University of Munich (TUM), department of architecture. He also is affiliated with the consultancy of EBP Schweiz AG, Zurich, as partner and senior consultant in the area of urban and regional economic development. He received his Master degree as well as his Ph.D. in economics from the University of St. Gallen, Switzerland.
Awards
Honorary Mention Gerd Albers Award for Best Book, ISOCARP (International Society of City and Regional Planners) (2008)
Lüthi S, Thierstein A and Hoyler M: "The world city network: Evaluating top-down versus bottom-up approaches". Cities 72(Part B). 2018; 287-294.
Abstract
Zhao J, Bentlage M and Thierstein A: "Residence, workplace and commute: Interrelated spatial choices of knowledge workers in the metropolitan region of Munich". Journal of Transport Geography. 2017; 62: 197-212.
Abstract
Alaily-Mattar N, Thierstein A and Förster A: "'Alternative futures': A methodology for integrated sustainability considerations, the case of Nuremberg West, Germany". Local Environment: The International Journal of Justice and Sustainability. 2014; 19(6): 677-701.
Abstract
Lüthi S, Thierstein A and Bentlage M: "The Relational Geography of the Knowledge Economy in Germany. On functional urban hierarchies and localised value chain systems". Urban Studies. 2013; 50(2): 276-293.
Abstract
Thierstein A, Lüthi S, Kruse C, Gabi S and Glanzmann L: "Changing value chain of the knowledge economy. Spatial impact of intra-firm and inter-firm networks within the emerging Mega-City Region of Northern Switzerland". Regional Studies. 2008; 42(8): 1113-1131.
Abstract