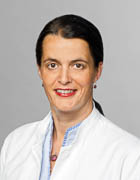 Prof. Dr. Claudia Traidl-Hoffmann
Academic Career and Research Areas
Professor Claudia Traidl-Hoffmann (b. 1970) conducts research on environment-human and environment-environment interaction with a focus on the barrier function of border surfaces. The effects of climate change on environment and health plus epigenetic changes in the immune response are main topics. She investigates immunological mechanisms in environmental diseases on a molecular level, identifies risk factors and develops individualized prevention and therapy.
After her studies and doctorate at the RWTH Aachen, Prof. Traidl-Hoffmann began practicing and research at the Klinikum rechts der Isar in 2001. She was appointed professor and board certified for Dermatology and Venereology in 2006 and for Allergology in 2008. In 2013, she was appointed to the CK-CARE directorate and to the Chair of Environmental Medicine, TUM, at UNIKA-T. In 2014, she became Head Physician for Environmental Medicine at today´s University Hospital Augsburg. Since 2015, she is Director at the Institute of Environmental Medicine, HMGU. In 2017, she was appointed Deputy Director at the Institute for Food and Health – ZIEL. She is board member of academies and societies, e. g. DGAKI, ADF, EAACI, DDG, CAI.
Awards
DGAKI Research Prize for the publication "Altunbulakli et al. JACI 2018" (2018)
Oscar-Gans Prize, German Dermatological Society DDG (2015)
PhARF Award, Honorable mention as candidate (2011)
Egon-Macher Prize, Arbeitsgemeinschaft Dermatologische Forschung ADF (2011)
Allergopharma Award (2006)
Aglas L et al.: "Context matters: TH2 polarization resulting from pollen composition and not from protein-intrinsic allergenicity". J Allergy Clin Immunol. 2018; 142(3): 984-987.e6.
Abstract
Altunbulakli C et al.: "Relations between epidermal barrier dysregulation and Staphylococcus species-dominated microbiome dysbiosis in patients with atopic dermatitis". J Allergy Clin Immunol. 2018; 142(5): 1643-1647.e12.
Abstract
Groß C et al.: "K+ Efflux-Independent NLRP3 Inflammasome Activation by a Small Molecule Targeting Mitochondria". Immunity. 2016; 45(4): 761-773.
Abstract
Toubiana J et al.: "Heterozygous STAT1 gain-of-function mutations underlie an unexpectedly broad clinical phenotype". Blood. 2016; 127(25): 3154-64.
Abstract
Quaranta M et al.: "Intraindividual genome expression analysis reveals a specific molecular signature of psoriasis and eczema". Sci Transl Med. 2014; 6(244): 244ra90.
Abstract