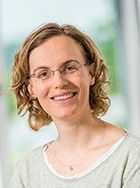 Academic Career and Research Areas
Dr. Colomé-Tatché studied a Bachelor's and Master's degree in Physics at the Autonomus University of Barcelona (2005). She also obtained a Master's degree in Theoretical Physics at the Ecole Normale Superieure in Paris (2005) and a PhD in Physics at the Laboratory of Theoretical Physics and Statistical Models (University of Paris Sud) (2008). After a short postdoctoral stay at the Theoretical Quantum Optics Group (Institute for Theoretical Physics, University of Hannover), she moved to the Groningen Bioinformatics Centre where she transitioned into the field of quantitative biology, being involved in some of the first large scale population epigenetic studies in model organisms. Since 2013 she is a Rosalind Franklin Fellow at the Department of the Biology of Ageing (European Research Institute for the Biology of Ageing – ERIBA, University of Groningen and University Medical Centre Groningen), and since 2016 she is also a Helmholtz Young Investigator's Group Leader at the Institute of Computational Biology (Helmholtz Zentrum München).
Dr. Colomé-Tatché conducts research in the area of computational epigenomics. Her group aims to develop new computational methods for the integration and interpretation of datasets generated from single cell / low input technologies as well as bulk experiments, such as (single cell) DNA methylation and (low input) histone modifications. In addition, Dr. Colomé-Tatché also works on modelling epigenetic processes, such as the inheritance of epigenetic states and the stochastic gains and losses of epigenetic marks. The overall aim of her research is to develop robust computational methods and mathematical models that allow for a better understanding of processes involving epigenome dynamics, and how epigenomic changes affect the phenotype.
Awards
Helmholtz Young Investigators Group, Helmholtz Zentrum (2016-2021)
Rosalind Franklin Fellow, University Medical Centre and University of Groningen (2013-2018)
Netherlands Organization for Scientic Research (NWO) MEERVOUD grant (2013-2017)
M. Colomé-Tatché* and F.J. Theis* (*corresponding authors): "Statistical single cell multi-omics integration". Current Opinion in Systems Biology, doi.org/10.1016/j.coisb.2018.01.003 (2018).
Abstract
C.W. Hanna, A. Taudt, J. Huang, L. Gahurova, A. Kranz, S. Andrews, W. Dean, A.F. Stewart, M. Colomé-Tatché, and G. Kelsey: "MLL2 conveys transcription-independent H3K4 trimethylation in oocytes". Nature Structural & Molecular Biology, 25(1):73-82 (2018).
Abstract
B. Bakker, A. Taudt, M.E. Belderbos, D. Porubsky, D.C.J. Spierings, T.V. de Jong, N. Halsema, H.G. Kazemier, K. Hoekstra-Wakker, A. Bradley, E.S.J.M. de Bont, A. van den Berg, V. Guryev, P.M. Lansdorp, M. Colomé-Tatché* and F. Foijer* (*corresponding authors): "Single cell sequencing reveals karyotype heterogeneity in murine and human malignancies". Genome Biology, 17:115 (2016).
Abstract
• S. Cortijo*, R. Wardenaar*, M. Colomé-Tatché *, A. Gilly, M. Etcheverry, K. Labadie, E. Caillieux, F. Hospital, J-M. Aury, P. Wincker, F. Roudier, R. C. Jansen, V. Colot, F. Johannes (*these authors contributed equally): "Mapping the epigenetic basis of complex traits". Science, 343:1145-48 (2014).
Abstract
M. Colomé-Tatché, S. Cortijo, R. Wardenaar, B. Lahouze, M. Etcheverry, A. Martin, S. Feng, E. Duvernois-Berthet, K. Labadie, P. Wincker, S. E. Jacobsen, R. C. Jansen, V. Colot and F. Johannes: "Features of the Arabidopsis recombination landscape resulting from the combined loss of sequence variation and DNA methylation". Proc. Natl. Acad. Sci. USA, doi: 10.1073/pnas.1212955109 (2012).
Abstract