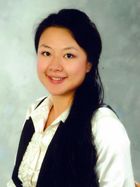 Dr. Li Deng
Helmholz Research Group
Bacteriophage in Natural Environment and Human-associated Microenvironment
Academic Career and Research Areas
Dr. Li Deng studied Environmental Engineering at the Tsinghua University in China (BEng), Environmental Science at the University of Nottingham in the UK (MSc), and Microbiology at the University of Bristol in the UK (PhD). After her post-doctoral training at the University of Arizona, US, she joined the Groundwater Ecology Institute, later moved to the Institute of Virology at the Helmholtz Zentrum München in Germany, as the head of DFG Emmy Noether group, as well as Helmholtz Young Investigator group.
Dr. Li Deng conducts research in the area of molecular virology. She takes an integrated approach to investigate microbes-viruses interactions by combining microcosm experiments employing model microbes and viruses, and culture-independent, high-throughput metagenomics. She is currently focusing on viruses from both environment (e.g. water) and human (e.g. gut and lung). In addition, an applied research direction of her is to synthesize viruses as "phage therapy" for curing diseases caused by pathogenic bacteria which have already gained resistance to antibiotics.
Awards
ERC starting grant (2018)
Head of an Helmholtz Young investigator group founded by the Helmholtz Association (since 2016)
Head of an Emmy-Noether group funded by the DFG (since 2015)
Awards for international collaborative, University of Queensland, Australia (2014)
Irene Manton Prize, British Phycological Society, UK (2008)
Dorothy Hodgkin Postgraduate Award, UK research council, UK (2004-2007)
Kurmayer R, Blom JF, Deng L, Pernthaler J: Integrating phylogeny, geographic niche partitioning and secondary metabolite synthesis in bloom-forming Planktothrix. ISME J. 2015; 9, 909-921.
Abstract
Deng L, Ignacio-Espinoza JS, Gregory A, Poulos PT, Weitz JS, Hugenholtz P, Sullivan MB: Viral-tagged metagenomics reveals environmental cyanophage populations are discretely clustered. Nature. 2014; 513, 242-245.
Abstract
Deng L, Gregory A, Yilmaz S, Poulos B, Hugenholtz P, Sullivan MB: Contrasting life strategies of viruses that infect photo- and hetero- trophic bacteria revealed by viral-tagging. mBio. 2012; 3, e00373-12.
Abstract
Hurwitz B, Deng L, Poulos BP, Sullivan MB: Evaluation of methods to concentrate and purify ocean virus communities through comparative, replicated metagenomics. Environmental Microbiology. 2013; 15, 1428-1440.
Abstract
Duhaime MB, Deng L, Poulos BT, Sullivan MB. (2012) Towards quantitative metagenomics of wild viruses and other ultra-low concentration DNA samples: a rigorous assessment and optimization of the linker amplification method. Environmental Microbiology. 2012; 14, 2526-37.
Abstract