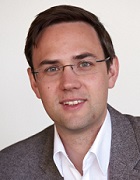 Academic Career and Research Areas
Dr. Deschler completed his undergraduate studies in Physics at the University of Bayreuth and the University of St Andrews. He obtained his Dr. rer. nat. from LMU Munich with Prof. Feldmann in the field of organic semiconductor spectroscopy. He then moved to the Optoelectronics Group at the University of Cambridge to work with Prof. Sir Richard Friend, where he made ground-breaking discoveries into the ultrafast photo-physics of metal-halide perovskite semiconductors. Dr. Deschler was awarded independent research funding through a Herchel Smith Postdoctoral Fellowship (2014) and a Winton Advanced Research Fellowship (2016). He joined TUM in May 2019 and leads an Emmy-Noether research group at the WSi.
In his research, Dr. Deschler explores how the structure and composition of materials control properties and dynamics of electronic states on ultrafast timescales. He uses time-resolved techniques with focus on advanced laser spectroscopy to gain a fundamental picture of the underlying physics that enable efficient optoelectronic applications.
Awards
ERC Starting Grant (2019)
Emmy Noether Award (2018)
EPSRC New Investigator Award (2018)
Winton Advanced Research Fellowship (2016)
Herchel Smith Postdoctoral Fellowship (2014)
J. P. H. Rivett, L. Z. Tan, M. B. Price, S. A. Bourelle, N. J. L. K. Davis, J. Xiao, Y. Zou, R. Middleton, B. Sun, A. M. Rappe, D. Credgington, and F. Deschler, "Long-lived polarization memory in the electronic states of lead-halide perovskites from local structural dynamics," Nat. Commun., vol. 9, no. 1, p. 3531, (2018)
Abstract
Richter, J. M.; Branchi, F.; Valduga de Almeida Camargo, F.; Zhao, B.; Friend, R. H.; Cerullo, G.; Deschler, F. (2017). Ultrafast Carrier Thermalization in Lead Iodide Perovskite Probed with Two-Dimensional Electronic Spectroscopy. Nat. Commun. 8, 376. (2017)
Abstract
Deschler, F., Price, M., Pathak, S., Klintberg, L. E., Jarausch, D.-D. D., Higler, R., Hüttner, S., Leijtens, T., Stranks, S. D., Snaith, H. J., Atatüre, M., Phillips, R. T. & Friend, R. H. 'High Photoluminescence Efficiency and Optically Pumped Lasing in Solution-Processed Mixed Halide Perovskite Semiconductors.' J. Phys. Chem. Lett. 5, 1–6 (2014)
Abstract
Deschler, F., Price, M., Pathak, S., Klintberg, L. E., Jarausch, D.-D. D., Higler, R., Hüttner, S., Leijtens, T., Stranks, S. D., Snaith, H. J., Atatüre, M., Phillips, R. T. & Friend, R. H. 'High Photoluminescence Efficiency and Optically Pumped Lasing in Solution-Processed Mixed Halide Perovskite Semiconductors.' J. Phys. Chem. Lett. 5, 1–6 (2014)
Abstract
Deschler, F., Da Como, E., Limmer, T., Tautz, R., Godde, T., Bayer, M., Von Hauff, E., Yilmaz, S., Allard, S., Scherf, U. & Feldmann, J. 'Reduced charge transfer exciton recombination in organic semiconductor heterojunctions by molecular doping.' Phys. Rev. Lett. 107, 127402 (2011)
Abstract