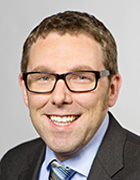 PD Dr. Olaf Groß
Academic Career and Research Areas
Dr. Groß studied biology at the TUM and finished with a diploma thesis at the institute of botany (2003). For his PhD, he studied the mechanisms of fungal recognition at the Klinikum rechts der Isar. During his postdoc on the basis of an EMBO fellowship, he initiated his work on the mechanisms of interleukin 1 secretion following inflammasome activation in the laboratory of Prof. Jürg Tschopp in Lausanne. Since March 2012, he is the head of an independent Research Group on the basis of an ERC Starting Grant and BioSysNet Junior Research Group funding.
He is doing research in the field of innate immunity with the goal to mechanistically understand the recognition of pathogens and the subsequent activation of an immune response. His focus is on the molecular mechanisms of inflammation, especially the activation of the secretion of interleukin 1 by the inflammasome. This field encompasses the role of the inflammasome and of interleukin 1 in the pathogenesis of autoinflammatory deseases.
Key Publications
Gross O, Yazdi AS, Thomas CJ, Masin M, Heinz LX, Guarda G, Quadroni M, Drexler SK, and Tschopp J: "Inflammasome Activators Induce Interleukin-1a Secretion via Distinct Pathways with Differential Requirement for the Protease Function of Caspase-1." Immunity. 2012; 36(3): p. 388-400.
Abstract
Gross O, Thomas CJ, Guarda G, and Tschopp J : "The inflammasome: an integrated view." Immunol Rev. 2011; 243, 136-151.
Abstract
Poeck H, Bscheider M, Gross O, Finger K, Roth S, Rebsamen M, Hannesschlager N, Schlee M, Rothenfusser S, Barchet W, Kato H, Akira S, Inoue S, Endres S, Peschel C, Hartmann G, Hornung V, Ruland J: "Recognition of RNA virus by RIG-I results in activation of CARD9 and inflammasome signaling for interleukin 1 beta production." Nat Immunol. 2010; 11(1): 63-69.
Abstract
Gross O, Poeck H, Bscheider M, Dostert C, Hannesschlager N, Endres S, Hartmann G, Tardivel A, Schweighoffer E, Tybulewicz V, Mocsai A, Tschopp J, Ruland J: "Syk kinase signalling couples to the Nlrp3 inflammasome for anti-fungal host defence." Nature. 2009; 459(7245): 433-436.

Abstract
Gross O, Gewies A, Finger K, Schafer M, Sparwasser T, Peschel C, Forster I, Ruland J: " Card9 controls a non-TLR signalling pathway for innate anti-fungal immunity." Nature. 2006; 442(7103): 651-656.
Abstract