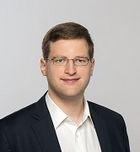 Academic Career and Research Areas
Dr. Hacker (*1986) studied Life Science at the University of Konstanz, where he obtained his M.Sc. degree in 2010. After his Ph.D. in the field of nucleotide chemistry in the lab of Prof. Andreas Marx, he moved to the Scripps Research Institute in La Jolla, California. Here, he worked in the group of Prof. Benjamin Cravatt and developed chemoproteomic methods to investigate lysin-reactive covalent inhibitors for human proteins. Supported by a Liebig fellowship of the Fonds der Chemischen Industrie, he started his independent career as a junior group leader at the Technical University of Munich in July 2017.
Dr. Stephan Hacker is working on the synthesis of covalent inhibitors and their application as antibiotics with novel modes-of-action. For this purpose, he is developing new chemical structures that react with the side chains of different amino acids in proteins. He uses the synthesized compounds in phenotypic experiments to identify substances that show antibiotic or antivirulence activity, as well as for the subsequent chemoproteomic detection of target proteins. His research will in this way help to identify bacterial pathways that can be addressed with novel antibiotics.
Awards
Liebig Fellowship of the Fonds der Chemischen Industrie (2017)
Research Fellowship by the Deutsche Forschungsgemeinschaft (2015-2016)
VAA Award of the Verband der angestellten Akademiker und leitenden Angestellten der chemischen Industrie e. V. (VAA) (2014)
Stipend by the Studienstiftung des deutschen Volkes (2005-2012)
VEUK Award of the University of Konstanz (2008)
Hacker SM, Backus KM, Lazear M, Forli S, Correia B, Cravatt BF: "Global profiling of lysine reactivity and ligandability in the human proteome", Nat. Chem., 2017, accepted.
Abstract
Hacker SM, Buntz A, Zumbusch A, Marx A: "Direct Monitoring of Nucleotide Turnover in Human Cell Extracts and Cells by Fluorogenic ATP Analogs", ACS Chem. Biol., 2015, 10: 2544-2552.
Abstract
Hacker SM, Mortensen F, Scheffner M, Marx A: "Selective Monitoring of the Enzymatic Activity of the Tumor Suppressor Fhit", Angew. Chem. Int. Ed., 2014, 53: 10247-10250.
Abstract
Hacker SM, Pagliarini D, Tischer T, Hardt N, Schneider D, Mex M, Mayer TU, Scheffner M, Marx A: "Novel Fluorogenic ATP Analogues for Online Monitoring of ATP Consumption: Observing Ubiquitin Activation in Real-Time", Angew. Chem. Int. Ed., 2013, 52: 11916-11919.
Abstract
Hacker SM, Hardt N, Buntru A, Pagliarini D, Möckel M, Mayer TU, Scheffner M, Hauck CR, Marx A: "Fingerprinting Differential Active Site Constraints of ATPases", Chem. Sci., 2013, 4: 1588-1596.
Abstract