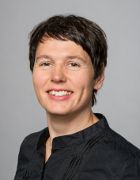 Dr.-Ing. Claudia Hemmerle
Academic Career and Research Areas
Dr. Hemmerle (b. 1976) studied Renewable Energies at the FHTW University of Applied Sciences in Berlin. After receiving her PhD at the Institute of Building Construction at Technische Universität Dresden, she was a postcoc at the Centre of Sustainable Building at TUM and a professor at the Smart Building / Smart Cities department at Salzburg University of Applied Sciences. Since October 2018 she leads a junior research group of the Bavarian Network for Climate Research bayklif at TUM.
Dr. Hemmerle conducts research in the area of building integrated photovoltaics and sustainable building. Her focus, multifunctional roof and façade systems and the smart use of their solar electricity production in the heat and transport sector, shifted from the component and building scale to the urban district scale. Her research group investigates how urban building envelopes can be energy activated while balancing competing installations like greening, building culture and urban microclimate, climate protection and climate adaptation as well as flexible and grid-supportive integration into the energy system. An important aspect is to identify urban development strategies and tools for a successful implementation.
Key Publications
Hemmerle C: "Solar PV Building Skins – Structural Requirements and Environmental Benefits". Journal of Facade Design and Engineering. 2017; 5 (1): 93-105.
Abstract
Hemmerle C: "Structural Safety of Photovoltaic Modules in the Building Envelope". Proceedings of Challenging Glass 5 – Conference on Architectural and Structural Applications of Glass. 2016; 187-200.
Abstract
Beer M, Beister D, Chelly H, Hemmerle C, Höhle C, Honold J, Huith M, Kandler C, Lindauer M, Prestl W, Wimmer P: Energieautarke Elektromobilität im Smart-Micro-Grid vom Einfamilienhaus bis zum intelligenten Parkhaus. München: BMW AG, 2016.
Abstract
Hemmerle C: "Solare Campuspotenziale. Einsatz von Photovoltaik in Gebäuden der TU Dresden". Tagungsband 3. Anwenderforum Gebäudeintegrierte Photovoltaik. 2011; 71-84.
Abstract
Weller B, Hemmerle C, Jakubetz S, Unnewehr S: DETAIL Praxis Photovoltaik. Technik, Gestaltung, Konstruktion. München: Institut für internationale Architekturdokumentation, 2009.
Abstract