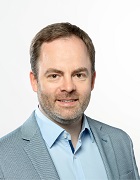 Academic Career and Research Areas
Dr. Hof studied biology at the University of Marburg (Germany). Between 2007 and 2010 he conducted his PhD at the University of Copenhagen (Denmark) at the Center for Macroecology, Evolution and Climate and at the National Museum for Natural Sciences Madrid (Spain). After another year as postdoc in Copenhagen he moved to the Senckenberg Biodiversity and Climate Research Centre in Frankfurt (Germany). Since 2015 he is a member of the German Young Academy. Since 2018 he leads a junior research group of the Bavarian Network for Climate Research bayklif at the TU Munich.
Dr. Christian Hof (b. 1979) studies the distribution of biological diversity in space and time. His scientific work mainly focuses on the impacts of climate change on species distributions and biodiversity of different animal groups. One of the key aims of his research is the integration of data and methods from different disciplines (e.g. ecology, biogeography, physiology, climatology) to develop better projections of the future of global and regional biodiversity in a world of anthropogenic global change.
Awards
Horst-Wiehe-Award of the Ecological Society of Germany, Austria and Switzerland (2019)
Member of the German Young Academy (since 2015)
PhD stipend by the International School of Biodiversity Sciences (ISOBIS), Denmark (2007-2010)
Fellowship awarded by the Cusanuswerk – the German Catholic Scholarship
Foundation (2001-2007)
Hof C, Voskamp A, Biber MF, Böhning-Gaese K, Engelhardt EK, Niamir A, Willis SG & Hickler T: "Bioenergy cropland expansion may offset positive effects of climate change mitigation for global vertebrate diversity". Proceedings of the National Academy of Sciences. 2018; 115: 13294-13299
Abstract
Methorst J, Böhning-Gaese K, Khaliq I & Hof C: "A novel approach for species distribution models – incorporating physiology, dispersal, and land-use change". Journal of Avian Biology. 2017; 48: 1532-1548.
Abstract
Khaliq I, Hof C, Prinzinger R, Böhning-Gaese K & Pfenninger M: "Global variation in thermal tolerances and vulnerability of endotherms to climate change". Proceedings of the Royal Society B: Biological Sciences. 2014; 281: 20141097.
Abstract
Hof C, Araújo MB, Jetz W, Rahbek C: "Additive threats from pathogens, climate and land-use change for global amphibian diversity". Nature. 2011; 480: 516-519.
Abstract
Hof C, Levinsky I, Araújo MB & Rahbek C: "Rethinking species' ability to cope with rapid climate change". Global Change Biology. 2011; 17: 2987-2990.
Abstract