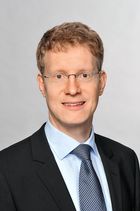 Academic Career and Research Areas
Dr. Jacob studied medicine at the University of Freiburg and Heidelberg, at University College London (UK) and Harvard University (USA). He completed his dissertation on neuronal calcium signaling at Yale University (USA) as a fellow of the German National Academic Foundation. Funded by an independent DFG grant, he spent four years as a postdoc at the Center for Integrative Neuroscience in Tübingen in the laboratory of Andreas Nieder working on the neuronal mechanisms of executive brain functions. He completed specialist medical training in neurology in Tübingen and at the Charité in Berlin.
Dr. Jacob conducts research on the neurobiological basis of higher cognitive functions. A particular focus is the regulation of subjective experience, working memory and decision making by subcortical neuromodulators such as dopamine. Dr. Jacob's research could eventually contribute to a better understanding of the cellular mechanisms giving rise to neuropsychiatric diseases.
Awards
ERC Starting Grant (2017)
Coordinator and speaker of BMBF research collaboration (2015)
Charité Clinical Scientist Award (2014)
German Primate Center Award (2013)
NRW Young Scientist Award (2007)
Jacob SN, Stalter M and Nieder A. (2016) Cell-type-specific modulation of targets and distractors by dopamine D1 receptors in primate prefrontal cortex. Nat Commun, doi: 10.1038/ncomms13218.
Abstract
Ranganath A and Jacob SN. (2016) Doping the mind: dopaminergic regulation of prefrontal cortical cognition. Neuroscientist, 22(6):593-603.
Abstract
Ott T, Jacob SN, and Nieder A. (2014) Dopamine receptors differentially enhance rule coding in primate prefrontal cortex neurons. Neuron, 84(6):1317-28.
Abstract
Jacob SN and Nieder A. (2014) Complementary roles for primate frontal and parietal cortex in guarding working memory from distractor stimuli. Neuron, 83(1):226-37.
Abstract
Jacob SN, Ott T and Nieder A. (2013) Dopamine regulates two classes of primate prefrontal neurons that represent sensory signals. J Neurosci, 33:13724-34.
Abstract