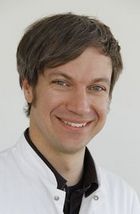 Dr. Jan Kirschke (geb. Bauer)
Academic Career and Research Areas
Jan Kirschke (1977) conducts research in the area of quantitative musculoskeletal and neuro-oncology imaging. He started working on high resolution imaging of osteoporosis in 2001 and is currently principal investigator of the quantitative imaging research group at the Technische Universität München. He is trying to advance CT, MRI and other imaging techniques to improve fracture prediction at the spine, operation success for back pain and recently also in brain tumors.
PD Dr. Kirschke studied medicine at the University of Regensburg and the Technische Universität München. He received his training in San Francisco and Munich and is board-certified since 2012. He is currently attending radiologist and member of the faculty at the department of diagnostic and interventional neuroradiology at the Technische Universität München.
Awards
ERC Starting Grant "iBack" (2014)
DFG research grant "Optimierung von Prädiktion und Verständnis osteoporotischer Insuffizienzfrakturen durch Modellbildung, numerische Simulation und Quantifizierung lokaler Anisotropien mit direktionaler Dunkelfeldbildgebung" (2013)
Best lecture for postdoctoral degree "Habilitation Colloquium" (2012)
DFG research grant "Entwicklung und Anwendung Nichtlinearer Bildanalyseverfahren zur Analyse der trabekulären Knochenstruktur im Kontext von Osteoporose" (2009)
Seed-Grant of the University of California, San Francisco (2005)
Liebl H, Garcia EG, Holzner F, Noel PB, Burgkart R, Rummeny EJ, Baum T, Bauer JS. In-vivo assessment of femoral bone strength using Finite Element Analysis (FEA) based on routine MDCT imaging: a preliminary study on patients with vertebral fractures. PLoS One. 2015 Feb 27;10(2):e0116907.
Abstract
Baum T, Yap SP, Dieckmeyer M, Ruschke S, Eggers H, Kooijman H, Rummeny EJ, Bauer JS, Karampinos DC. Assessment of whole spine vertebral bone marrow fat using chemical shift-encoding based water-fat MRI. J Magn Reson Imaging. 2015 Feb 2.
Abstract
Eggl E, Malecki A, Schaff F, Potdevin G, Noël PB, Bauer JS, Gordijenko O, Grande García E, Burgkart R, Rummeny EJ, Baum T, Pfeiffer F. Prediction of Vertebral Failure Load by Using X-Ray Vector Radiographic Imaging. Radiology. 2014 Dec 19:141317.
Abstract
Bauer JS, Sidorenko I, Mueller D, Baum T, Issever AS, Eckstein F, Rummeny EJ, Link TM, Raeth CW. Prediction of bone strength by μCT and MDCT-based finite-element-models: how much spatial resolution is needed? Eur J Radiol. 2014 Jan;83(1):e36-42.
Abstract
Baum T, Müller D, Dobritz M, Wolf P, Rummeny EJ, Link TM, Bauer JS. Converted lumbar BMD values derived from sagittal reformations of contrast-enhanced MDCT predict incidental osteoporotic vertebral fractures. Calcif Tissue Int. 2012 Jun;90(6):481-7.
Abstract