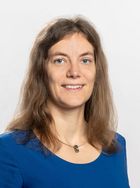 Dr. Barbara A. J. Lechner
Academic Career and Research Areas
Dr. Barbara Lechner investigates the dynamic restructuring of model catalysts under reaction conditions. To this purpose, she places a scanning tunneling microscope with high temporal and spatial resolution directly into reactive gas mixtures and thus investigates how the structure of catalyst particles (metal clusters) and oxide supports changes under reaction conditions. By using small clusters with a precisely defined number of atoms, it is possible to investigate how the formation and decay of highly reactive particle structures occurs, can be controlled and how such structural changes influence the function of a catalyst. With this knowledge, it will be possible to find cheaper alternatives to the precious metal catalysts commonly used today.
Dr. Barbara Lechner studied Chemistry at the University of Innsbruck, Austria, where she obtained her M. Sc. degree in 2008. She pursued her Ph.D. studies in Physics at the University of Cambridge, UK, studying the picosecond motion of molecular adsorbates on surfaces using the unique helium spin-echo method. As a postdoctoral fellow, she joined the group of Prof. Miquel Salmeron at the Lawrence Berkeley National Laboratory, CA, to explore the dynamic interaction of different adsorbate molecules using state-of-the-art scanning tunneling microscopy and ambient pressure techniques. Since 2016, she is a member of the Chair of Physical Chemistry at the Technical University of Munich where she pursues her Habilitation.
Awards
ERC Starting Grant (2019)
Scholarship in the Young Academy of the Bavarian Academy of Sciences and Humanities (2018)
Marie Skłodowska Curie Scholarship (2017)
Max Auwärter Prize (2016)
Springer Thesis Prize (2013)
Key Publications
B. A. J. Lechner, F. Knoller, A. Bourgund, U. Heiz, F. Esch, A microscopy approach to investigating the energetics of small supported metal clusters. J. Phys. Chem. C 2018, 122, 22569.
Abstract
B. A. J. Lechner, X. Feng, P. J. Feibelman, J. I. Cerdà, M. Salmeron, Scanning tunneling microscopy study of the structure and interaction between carbon monoxide and hydrogen on the Ru(0001) surface. J. Phys. Chem. B 2017, 122, 649.
Abstract
B. Zugic, L. Wang, C. Heine, D. N. Zakharov, B. A. J. Lechner, E. A. Stach, J. Biener, M. Salmeron, R. J. Madix, C. M. Friend, Dynamic restructuring drives catalytic activity on nanoporous gold-silver alloy catalysts. Nat. Mater. 2017, 16, 558.
Abstract
C. Heine, B. A. J. Lechner, H. Bluhm, M. Salmeron, Recycling of CO2: Probing the chemical state of the Ni(111) surface during the methanation reaction with ambient pressure x-ray photoelectron spectroscopy. J. Am. Chem. Soc. 2016, 138, 13246.
Abstract
P. Rotter, B.A.J. Lechner, A. Morherr, D.M. Chisnall, D. Ward, A.P. Jardine, J. Ellis, W. Allison, B. Eckhardt, G. Witte, Coupling between diffusion and orientation of pentacene molecules on an organic surface. Nat. Mater. 2016, 15, 397.
Abstract