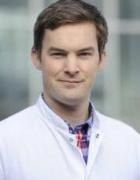 Dr. med. Michael Quante
Max Eder Research Group (German Cancer Aid)
TUM Junior Fellow
Principal Investigator PD Dr. Quante
Academic Career and Research Areas
Dr. Quante´s (*1978) laboratory is focusing on a translational research approach on Barrett's Esophagus and esophageal adenocarcinoma, and the impact of gastrointestinal stem cells on inflammation induced carcinogenesis. We are working to facilitate the clinical realization of basic science principles in order to improve the care and treatment of esophagus cancer patients and the surveillance of patients with Barrett's Esophagus. Dr. med. Michael Quante (*1978) begun his doctoral studies in 2001 at the University of Freiburg, investigating esophageal cancer. After medical school at Freiburg University, he started his clinical training at the Department of Medicine, University Medical Center Bonn in 2006. In 2008 Michael began his postdoctoral fellowship in the laboratory of Timothy Wang at Columbia University in New York. There he focused on a translational research approach studying the pathogenesis of gastrointestinal cancers in genetically engineered mouse models with a focus on Barrett Esophagus and Adenocarcinoma of the Esophagus. Michael joined the Klinikum rechts der Isar, in Mai 2011 as a GI fellow and principle investigator.
Awards
Max Eder Research Group, German Cancer Aid (2011-2015)
AACR Future Leaders in Basic Cancer Research Special Symposium (2012)
AACR Scholar in Training Award, Washington D.C. (2010)
Postdoc fellowship of the Dr. Mildred Scheel foundation/German Cancer Aid (2008-2010)
Ludwig-Heilmeyer prize for an excellent dissertation, University of Freiburg (2005)
Quante M, Bhagat G, Abrams J, Marache F, Good P, Lee MD, Mahmood U, Lightdale C, Rustgi A, Wang TC: "Bile acid and inflammation activate gastric cardia stem cells in a mouse model of Barrett's-like metaplasia". Cancer Cell. Jan 17, 2012.
Abstract
Quante M *, Tu S*, Tomita H, Gonda T, Takashi S, Baik GH, Shibata W, Betz KS, Varro A, Tycko B, Wang TC: "Bone marrow-derived myofibroblasts contribute to the mesenchymal stem cell niche and promote tumor growth". Cancer Cell. Feb 15, 2011.
Abstract
Tu S*, Quante M *, Bhagat G, Takashi S, Cui G, Shibata W, Yang XD, Jin GC, Muthupalani S, Fox JG, Pritchard DM, Wang TC: "Interferon- inhibits gastric carcinogenesis through induction of autophagy and suppression of gastric progenitor cell expansion". Cancer Research. Apr 21, 2011.
Abstract
Quante M, Marrache F, Goldenring JR, Wang TC: "TFF2 mRNA transcript expression marks the gland progenitor cell of the gastric oxyntic mucosa". Gastroenterology. Aug 11, 2010.
Abstract
Quante M, Heeg S, von Werder A, Goessel G, Fulda C, Doebele M, Nakagawa H, Beijersbergen R, Blum HE, Opitz OG: "Differential transcriptional regulation of human telomerase in a cellular model representing important genetic alterations in esophageal squamous carcinogenesis". Carcinogenesis. Nov 26, 2005.
Abstract