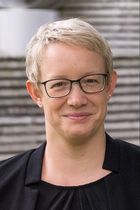 Academic Career and Research Areas
Dr. Stefanie Ranf (*1978) studies immune sensing and immune defence of pathogens in plants. Her research focuses on the perception of lipopolysaccharide from bacterial cell walls through plant immune sensors. These findings allow not only a deeper understanding of the plant immune system on the molecular level but are also useful for the development of resistant crop plants in context of sustainable plant protection.
Dr. Ranf studied biochemistry at the Universität Regensburg, where she got her diploma in 2003. She worked as visiting scientist at the University of South Carolina, USA. From 2005 to 2012 Dr. Ranf worked at the Leibniz Institute of Plant Biochemistry in Halle (Saale). In 2011 she got her PhD from the Martin-Luther-Universität Halle. Since 2013 Dr. Ranf leads a research group at the chair of phytopathology at the Wissenschaftszentrum Weihenstephan. Since 2015 Dr. Ranf is a member of the Collaborative Research Centre 924 and since 2016 scholar of the Emmy Noether Programme of the German Research Foundation.
Awards
Julius Kühn Award of the German Scientific Society for Plant Protection and Plant Health (2016)
Emmy-Noether fellowship of the German Research Foundation (2016)
Award of "Wissenschaftspreis der Stadt Freising" (2015)
Award of the Luther-Urkunde of the Martin-Luther-Universität Halle/Wittenberg (2012)
Foreign exchange scholarship of the German National Academic Foundation (Oct 2003-Oct 2004)
Ranf S. (2017). Sensing of molecular patterns through cell surface immune receptors. Current Opinion in Plant Plant Biology 38:68-77
Abstract
Ranf S. (2016). Immune Sensing of Lipopolysaccharide in Plants and Animals: Same but Different. PLoS Pathogens 12: e1005596
Abstract
Ranf S, Gisch N, Schäffer M, Illig T, Westphal L, Knirel YA, Sánchez-Carballo PM, Zähringer U, Hückelhoven R, Lee J, and Scheel D (2015). A lectin S-domain receptor kinase mediates lipopolysaccharide sensing in Arabidopsis thaliana. Nature Immunology 16(4):426-433
Abstract
Ranf S, Eschen-Lippold L, Fröhlich K, Westphal L, Scheel D, and Lee J (2014). Microbe-associated molecular pattern-induced calcium signaling requires the receptor-like cytoplasmic kinases, PBL1 and BIK1. BMC Plant Biology 14(1):374
Abstract
Ranf S, Grimmer J, Pöschl Y, Pecher P, Chinchilla D, Scheel D, and Lee J (2012). Defense-related calcium signaling mutants uncovered via a quantitative high-throughput screen in Arabidopsis thaliana. Molecular Plant 5(1):115-130
Abstract