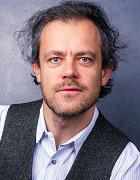 PD Dr. Valentin Riedl
ERC Starting Grant (EU)
TUM Junior Fellow
Academic Career and Research Areas
Valentin Riedl studied Medicine at the University of Regensburg and at the Technical University Munich (TUM), as well as political sciences at the University of Hagen. He then joined the World Health Organization (WHO) in Geneva, Switzerland as a Research Fellow. Upon return to Germany, he received his MD/Dr.med. (genetical engineering) from TUM in 2009 and his PhD (Systemic Neurosciences) from Ludwig-Maximilians-Universität Munich (LMU). At TUM School of Medicine, he was appointed lecturer (Priv.Doz.) on Neuroimaging in 2015 and TUM Junior Fellow in 2018.
The human brain consumes around 20% of the energy produced by the body. While neuroscience research has immensely progressed in understanding the micro- and macroscopic architecture of the brain, the reason for its high energy demands is still a mystery. In my research on the Neuroenergetics of the human brain, I study how energy metabolism drives neural signaling and whether it is altered in neuropsychiatric disorders. At TUM, I have therefore established simultaneous measurements of glucose and oxygen metabolism in the brain combining quantitative PET, calibrated fMRI and edited MRS.
Awards
2018 ERC Starting Grant SUGARCODING
2005-06 Postgraduate Scholarship: German National Merit Foundation (Studienstiftung des deutschen Volkes)
2003-04 Graduate Scholarship: Max-von-Bauernfeind Stiftung
Riedl V, Utz L, Castrillón G, Grimmer T, Rauschecker JP, Ploner M, Friston KJ, Drzezga A, Sorg C. Metabolic connectivity mapping reveals effective connectivity in the resting human brain. Proc Natl Acad Sci U S A. 2016 Jan 12;113(2):428-33.
Abstract
Riedl V, Bienkowska K, Strobel C, Tahmasian M, Grimmer T, Förster S, Friston KJ, Sorg C, Drzezga A. Local activity determines functional connectivity in the resting human brain: a simultaneous FDG-PET/fMRI study. J Neurosci. 2014 Apr 30;34(18):6260-6.
Abstract
Sorg C, Riedl V, Mühlau M, Calhoun VD, Eichele T, Läer L, Drzezga A, Förstl H, Kurz A, Zimmer C, Wohlschläger AM. Selective changes of resting-state networks in individuals at risk for Alzheimer's disease. Proc Natl Acad Sci U S A. 2007 Nov 20;104(47):18760-5.
Abstract