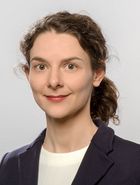 Academic Career and Research Areas
Dr. Anne Schütz studied chemistry in Göttingen and pursued her graduate work at ETH Zurich in the field of nuclear magnetic resonance spectroscopy. After post-doctoral research at the University of Toronto, she joined TUM department of Chemistry as the head of an Emmy Noether research group.
Dr. Anne Schütz and her team conduct research in the area of structural biology. The team employs magnetic resonance methods, complemented by electron microscopy and additional biophysical techniques. The research focus is on virions, the pathogenic agents behind numerous infections afflicting humans. The team is interested in the molecular details of assembly and maturation of viral capsids and envelopes as well as antiviral strategies at the interface to the medical sciences.
Awards
Emmy-Noether fellowship of the German Research Foundation (2017)
Leukemia & Lymphoma Society: Special Fellow Award (2016)
European Molecular Biology Organization: Long-term Fellowship (2013)
Swiss National Science Foundation: Early Postdoc.Mobility fellowship (2013)
Scholarship of the German National Academic Foundation
Schütz A.K., Rennella, E., Kay, L.E. Exploiting conformational plasticity in the AAA+ protein VCP/p97 to modify function, Proc Natl Acad Sci U S A. 2017; 114(33), E6822-E6829.
Abstract
Schütz, A.K., Kay, L.E. A Dynamic Molecular Basis for Malfunction in Disease Mutants of p97/VCP, eLife, 2016; 5.
Abstract
Herrmann, U.S., Schütz, A.K., Shirani, H., Huang, D., Saban, D., Nuvolone, M., Li, B., Ballmer, B., Åslund, A.K., Mason, J.J., Rushing, E., Budka, H., Nyström, S., Hammarström, P., Böckmann, A., Caflisch, A., Meier, B.H., Nilsson, K.P., Hornemann, S., Aguzzi, A. Structure-based drug design identifies polythiophenes as antiprion compounds. Science Translational Medicine. 2015; 7(299): 299ra123.
Abstract
Schütz, A.K., Vagt, T., Huber, M., Ovchinnikova, O.Y., Cadalbert, R., Wall, J., Güntert, P., Böckmann, A., Glockshuber, R., Meier, B.H. Atomic-resolution three-dimensional structure of amyloid β fibrils bearing the Osaka mutation. Angewandte Chemie. 2015; 54(1): 331-5.
Abstract
Schütz, A.K., Soragni, A., Hornemann, S., Aguzzi, A., Ernst, M., Böckmann, A., and Meier, B.H. The amyloid-Congo red interface at atomic resolution. Angewandte Chemie. 2011; 50(26): 5956-60.
Abstract