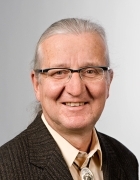 Academic Career and Research Areas
Prof. Vogel's (b. 1955) research interests are food microbiology and food biotechnology. He focuses on the development of starter cultures for food fermentation, high pressure applications as an aid to studying cell biological reactions in microorganisms, and the detection, typing and control of unwanted microorganisms in food. His particular interest is lactic acid bacteria, as their metabolism and genetics as regards stress response and the formation of proteins, sugar polymers and metabolites determine the odor and structure of foods and the functionality and safety of probiotics.
After studying biochemistry at the University of Tübingen, he did his doctorate there in 1987 on the topic of the genetics of metabolic regulation in Saccharomyces cerevisiae. While qualifying as a lecturer at the University of Hohenheim (1992), he set up a workgroup on the genetics of lactic acid bacteria in raw sausage fermentation. Since 1994, he has been Head of the Chair of Technical Microbiology at TUM. From 1998 to 2000, he was Dean of the Department of Brewing, Food Technology and Dairy Science. From 2003 to 2004, he was Dean of Studies for Food Technology and Brewing.
Awards
Preis der Dr. Leni Schöninger-Stiftung (€ 80.000) für Arbeiten zur Nitritreduktion in Milchsäurebakterien (1993)
Key Publications
Lenz CA, Hew Ferstl MC, Vogel RF: "Sub-lethal stress effects on virulence gene expression in Enterococcus faecalis". Food Microbiol. 2010; 27(3): 317-326.
Abstract
Behr J, Vogel RF: "Mechanisms of hop inhibitation include the transmembrane redox reaction". Appl. Environ. Microbiol. 2010; 38(2): 34-47.
Abstract
Serrazanetti DI, Guerzoni ME, Corsetti A, Vogel RF: "Metabolic impact and potential exploitation of the stress reactions in lactobacilli". Food Microbiology. 2009; 26(7): 700-719.
Abstract
Vogel RF, Ehrmann MA: "Effects of pressure on lactic acid bacteria". In: High-Pressure Microbiology. Editors: Michiels C, Bartlett DH, Aertsen A. 2008; 117-144.
Hörmann S, Scheyhing C, Behr J, Pavlovic M, Ehrmann M, Vogel RF: "Comparative proteome approach to characterize the high-pressure response of Lactobacillus sanfranciscensis DSM 20451T". Proteomics; 2006: 1878-1885.
Abstract