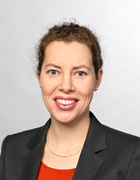 Prof. Dr. Christina Zielinski
Academic Career and Research Areas
Professor Zielinski (b. 1979) conducts research on the immunological principles underlying chronic inflammatory diseases and infections in humans. Through a better understanding of the regulation of human T-cells she seeks to identify molecular switches that might provide new diagnostic and therapeutic options when dealing with infections and autoimmune diseases.
Professor Zielinski studied medicine at the University of Heidelberg and at Harvard and Duke University. During her studies she spent a year as a research fellow at Yale University supported by a grant from the German National Academic Foundation. As a recipient of a DFG grant she spent over three years as a postdoctoral fellow at the Institute for Biomedicine in Bellinzona (Switzerland) in the research group of Federica Sallusto. She acquired her German medical board certification in dermatology in Tübingen and at the Charité in Berlin where she also headed the cellular immune regulation research group for more than three years. Since 2015 she has been a professor at the Institute for Virology at TUM.
Awards
LEO Research Award of the European Society for Dermatological Research (2014)
Oscar-Gans Research Prize of the German Dermatology Society (2013)
Janssen Award for Dermatology/Immunology (2013)
Robert Koch Postdoctoral Prize (2012)
Nils-Ilja-Richter Award of the German Autoimmune Related Diseases Society (2012)
Key Publications
Noster R, de Koning HD, Maier E, Prelog M, Lainka E, Zielinski CE: "Dysregulation of proinflammatory versus anti-inflammatory human TH17 cell functionalities in the autoinflammatory Schnitzler syndrome". J Allergy Clin Immunol. 2016; 138(4): 1161-1169.
Abstract
Noster R, Riedel R, Mashreghi M, Radbruch H, Harms L, Haftmann C, Chang HD, Radbruch A, Zielinski CE: "Antagonistic regulation of IL-17 and GM-CSF expression are antagonistically regulated by human T helper cells.". Sci. Transl. Med. 2014; 6(241): 241ra80.
Abstract
Zielinski CE, Mele F, Aschenbrenner D, Jarrossay D, Ronchi F, Gattorno M, Monticelli S, Lanzavecchia A, Sallusto F: "Pathogen-induced Th17 cells produce IFN-y or IL-10 and are regulated by IL-1b". Nature. 2012; 484(7395): 514-518.
Abstract
Zielinski CE, Corti D, Mele F, Pinto D, Lanzavecchia A, Sallusto F: "Dissecting the human immunological memory for pathogens". Immunol. Rev. 2011; 240(1): 40-51.
Abstract
Zielinski CE, Jacob SN, Bouzahzah F, Ehrlich BE, Craft J: "Naïve CD4+ T cells from lupus-prone Fas-intact MRL mice display TCR-mediated hyperproliferation due to intrinsic threshold defects in activation". J. Immunol. 2005; 174(8): 5100-9.
Abstract
print view