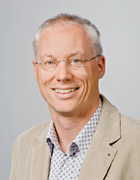 Prof. Dr. Bernhard Küster
Academic Career and Research Areas
Professor Küster (b. 1967) conducts research in the field of chemical and functional proteomics. This research focuses on a range of questions relating to how proteins interact with each other and with active pharmaceutical ingredients, which molecular mechanisms play a role in cancer and how these can be used for individual approaches to clinical treatment. He uses chemical and biochemical methods as well as spectroscopic and bioinformatic high throughput technologies.
After studying chemistry at the University of Cologne, Professor Küster obtained his doctorate in biochemistry at the University of Oxford. He subsequently worked as a postdoctoral researcher in Heidelberg, Germany, and Odense, Denmark. Prior to becoming a full professor at TUM and until 2007 he was Vice President of Cellzome AG, a Heidelberg-based biotech company. Professor Küster is the Chair of the TUM Department of Biosciences and a member of the Graduate School Experimental Medicine. His research is funded by the Center for integrated Protein Science Munich (CiPSM), the German Consortium for Translational Cancer Research (DKTK) and the pharmaceutical industry. Professor Küster is one of the founders of the biotech company OmicScouts GmbH.

Awards
Heinz Maier-Leibnitz Medaille der TU München (2014)
Visiting Professor, University of Bergen (2009)
Mattauch Herzog Preis der DGMS (1998)
Key Publications
Wilhelm M, Schlegl J, Hahne H, Moghaddas Gholami A, Lieberenz M, Savitski MM, Ziegler E, Butzmann L, Gessulat S, Marx H, Mathieson T, Lemeer S, Schnatbaum K, Reimer U, Wenschuh H, Mollenhauer M, Slotta-Huspenina J, Boese JH, Bantscheff M, Gerstmair A, Faerber F, Kuster B: "Mass spectrometry based draft of the human proteome". Nature. 2014; 509: 582-587.
Abstract
Savitski MM, Reinhard FBM, Franken H, Werner T, Fälth Savitski M, Eberhard D, Jafari R, Bakszt Dovega R, Martinez Molina D, Klaeger S, Kuster B, Nordlund P, Bantscheff M, Drewes G: "Tracking drug action in living cells by thermal profiling of the proteome". Science. 2014; 346(6205): 1255784.
Abstract
Marx H, Lemeer S, Schliep JE, Matheron L, Mohammed S, Cox J, Mann M, Heck AJR, Kuster B: "A large synthetic peptide and phosphopeptide library for mass spectrometry– based proteomics". Nat Biotechnol. 2013; 31: 557-564.
Abstract
Bantscheff M, Eberhard D, Abraham Y, Bastuck S, Boesche M, Hobson S, Mathieson T, Perrin J, Raida M, Rau C, Reader V, Sweetman G, Bauer A, Bouwmeester T, Hopf C, Kruse U, Neubauer G, Ramsden N, Rick J, Kuster B, Drewes G: "Quantitative chemical proteomics reveals mechanisms of action of clinical ABL kinase inhibitors". Nat. Biotechnol. 2007; 25: 1035-1044.
Abstract
Gavin AC, Aloy P, Grandi P, Krause R, Boesche M, Marzioch M, Rau C, Jensen LJ, Bastuck S, Dumpelfeld B, Edelmann A, Heurtier MA, Hoffman V, Hoefert C, Klein K, Hudak M, Michon AM, Schelder M, Schirle M, Remor M, Rudi T, Hooper S, Bauer A, Bouwmeester T, Casari G, Drewes G, Neubauer G, Rick JM, Kuster B, Bork P, Russell RB, Superti-Furga G: "Proteome survey reveals modularity of the yeast cell machinery". Nature. 2006; 440: 631-636.
Abstract
print view