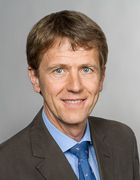 Prof. Dr. Heribert Schunkert
Chair
Internal Medicine – Cardiology
Academic Career and Research Areas
Professor Schunkert (b. 1959) conducts research in the field of molecular biology and the genetics of atherosclerosis with the aim of identifying the genetic roots of myocardial infarction. He also coordinates research networks sponsored by BMBF, the EU and the Leducq Foundation, and is a member of the National Center of Cardiovascular Research.
Professor Schunkert studied medicine at RWTH Aachen where he has also worked as a resident physician. He completed a DFG research fellowship at Brigham and Women's Hospital, Boston, before becoming an instructor in medicine at Beth Israel Deaconess. He acquired his German medical board certification in internal medicine and cardiology at the University Hospital of Regensburg. During this time he completed a fellowship in interventional cardiology at Massachusetts General Hospital, as a recipient of a DFG Heisenberg scholarship. He has held a C3 professorship in Regensburg and a C4 professorship in Lübeck. He has been at TUM and the German Heart Centre Munich (DHM) since October 2012. Professor Schunkert is the recipient of numerous awards. He is on the supervisory board of the University Hospital of Regensburg and author of more than 390 publications, h-index=68 (2012).
Awards
Arthur Weber Award of the German Cardiac Society (DGK) (2001)

Research Award of the German Society for the Prevention and Rehabilitation of Cardiovascular Disease (DGPR) (2001)

Recipient of a DFG Heisenberg grant (1995)

Ernst von Leyden Commemorative Medal of the Berlin Society of Internal Medicine (BGIM) (1995)

Walter-Clawiter Award of the University of Düsseldorf (1994)
Key Publications
Schunkert H, König IR, Kathiresan S, Reilly MP, Assimes TL, Holm H, Preuss M, Stewart AFR, Barbalic M, Gieger C, Absher D, Aherrahrou Z, Allayee H, Altshuler D, Stefansson K, Roberts R, Thorsteinsdottir U, O'Donnell CJ, McPherson R, Erdmann J & Samani NJ (and 167 co-authors): "Large-scale association analysis identifies 13 new susceptibility loci for coronary artery disease". Nat Genet. 2011; 43(4): 333-338.
Samani NJ, Erdmann J, Hall AS, Hengstenberg C, Mangino M, Mayer B, Dixon RJ, Meitinger T, Braund P, Wichmann HE, Barrett JH, Konig IR, Stevens SE, Szymczak S, Tregouet DA, Iles MM, Pahlke F, Pollard H, Lieb W, Cambien F, Fischer M, Ouwehand W, Blankenberg S, Balmforth AJ, Baessler A, Ball SG, Strom TM, Braenne I, Gieger C, Deloukas P, Tobin MD, Ziegler A, Thompson JR, Schunkert H: "Genomewide association analysis of coronary artery disease". N Engl J Med. 2007; 357: 443-453.
Broeckel U, Hengstenberg C, Mayer B, Holmer S, Martin LJ, Comuzzie AG, Blangero J, Nürnberg P, Reis A, Riegger GA, Jacob HJ, Schunkert H: "A comprehensive linkage analysis for myocardial infarction and its related risk factors". Nat Genet. 2002; 30(2): 210-214.
Schunkert H, Hense HW, Holmer SR, Stender K, Perz S, Keil U, Lorell BH, Riegger GAJ: "Association between a deletion polymorphism of the angiotensin-converting-enzyme gene and left ventricular hypertrophy". New Engl J Med. 1994; 330(23): 1634-1638.
Schunkert H, Dzau VJ, Tang SS, Hirsch AT, Apstein C, Lorell B: "Increased rat cardiac angiotensin converting enzyme activity and mRNA levels in pressure overload left ventricular hypertrophy: effects on coronary resistance, contractility and relaxation". J Clin Invest. 1990; 86(6): 1913-1920.
print view