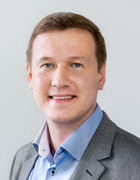 Prof. Dr. Aliaksandr S. Bandarenka
Academic Career and Research Areas
Professor Bandarenka conducts research in the area of the physics of energy conversion and storage. His main topics include the design and implementation of functional materials and a better understanding and characterization of electrified interfaces. The material design is based on a bottom-up approach using input from electrochemical surface science and starting from model surfaces.
Professor Bandarenka attended Belarusian State University (BSU). He earned his undergraduate degree in chemistry in 2002 and his PhD in 2005 working under the supervision of Dr. G.A. Ragoisha. After completing his PhD he was a postdoctoral researcher at the University of Twente in the Netherlands. In this role he worked with Professor H.J.M. Bouwmeester and Professor B.A. Boukamp on the development of new proton conducting electrolytes. In 2008 he moved to the Technical University of Denmark where he worked with Professor I. Chorkendorff and Professor J. Norskov on electrocatalysis for energy conversion. In 2010 he became a group leader at the Center for Electrochemical Sciences (CES) at Ruhr University Bochum, Germany. Since 2014 he has been a W2 professor at TUM and was advanced to W3 Professor in May 2020.
Awards
Ernst Haage-Prize for excellent research on chemical energy conversion (2016)
Hans-Jürgen Engell Award of the International Society of Electrochemistry (ISE) (2013)
Key Publications
S. Xue, R.W. Haid, R.M. Kluge, X. Ding, B. Garlyyev, J. Fichtner, S. Watzele, S. Hou, A.S. Bandarenka: "Enhancing the hydrogen evolution reaction activity of platinum electrodes in alkaline media using Ni-Fe clusters". Angewandte Chemie International Edition. 2020; 59:10934-10938.
Abstract
Pfisterer JHK, Liang Y, Schneider O, Bandarenka AS: "Direct instrumental identification of catalytically active surface sites". Nature. 2017; 549: 74–77.
Abstract
Tymoczko J, Calle-Vallejo F, Schuhmann W, Bandarenka AS: "Making the hydrogen evolution reaction in polymer electrolyte membrane electrolysers even faster". Nature Communications. 2016; 7: 10990.
Abstract
Yun J, Pfisterer J, Bandarenka AS: "How simple are the models of Na-intercalation in aqueous media?". Energy & Environmental Science. 2016; 9: 955-961.
Abstract
Calle-Vallejo F, Tymoczko J, Colic V, Vu QH, Pohl MD, Morgenstern K, Loffreda D, Sautet P, Schuhmann W, Bandarenka AS: "Finding optimal surface sites on heterogeneous catalysts by counting nearest neighbors". Science. 2015; 350(6257): 185-189.
Abstract