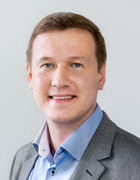 Prof. Dr. Aliaksandr S. Bandarenka
Assistant Professor
Physics of Energy Conversion and Storage
Academic Career and Research Areas
Professor Bandarenka conducts research in the area of the physics of energy conversion and storage. His main topics include the design and implementation of functional materials and a better understanding and characterization of electrified interfaces. The material design is based on a bottom-up approach using input from electrochemical surface science and starting from model surfaces.
Professor Bandarenka attended Belarusian State University (BSU). He earned his undergraduate degree in chemistry in 2002 and his PhD in 2005 working under the supervision of Dr. G.A. Ragoisha. After completing his PhD he was a postdoctoral researcher at the University of Twente in the Netherlands. In this role he worked with Professor H.J.M. Bouwmeester and Professor B.A. Boukamp on the development of new proton conducting electrolytes. In 2008 he moved to the Technical University of Denmark where he worked with Professor I. Chorkendorff and Professor J. Norskov on electrocatalysis for energy conversion. In 2010 he became a group leader at the Center for Electrochemical Sciences (CES) at Ruhr University Bochum, Germany. Since 2014 he has been a W2 professor at TUM.
Awards
Hans-Jürgen Engell Award of the International Society of Electrochemistry (ISE) (2013)
Key Publications
Calle-Vallejo F, Koper MTM, Bandarenka AS: "Tailoring the catalytic activity of electrodes with monolayer amounts of foreign metals". Chemical Society Reviews. 2013; 42: 5210-5230.
Abstract
Bandarenka AS, Varela AS, Karamad M, Calle-Vallejo F, Bech L, Perez-Alonso FJ, Rossmeisl J, Stephens IEL, Chorkendorff I: "The design of an active site towards optimal electrocatalysis: Overlayers, surface alloys and near-surface alloys of Cu/Pt(111)". Angewandte Chemie International Edition. 2012; 51(47): 11845-11848.
Abstract
Stephens IEL, Bandarenka AS, Grønbjerg U, Rossmeisl J, Chorkendorff I: "Understanding the electrocatalysis of oxygen reduction on platinum and its alloys". Energy & Environmental Science. 2012; 5: 6744-6762.
Abstract
Greeley J, Stephens IEL, Bandarenka AS, Johansson TP, Hansen HA, Jaramillo TF, Rossmeisl J, Chorkendorff I, Nørskov JK: "Alloys of platinum and early transition metals as oxygen reduction electrocatalysts". Nature Chemistry. 2009; 1: 552-556.
Abstract
Ragoisha GA, Bondarenko AS: "Potentiodynamic electrochemical impedance spectroscopy". Electrochimica Acta. 2005; 50(7-8): 1553-1563.
Abstract
print view