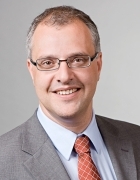 Academic Career and Research Areas
Prof. Bausch (b. 1970) conducts research in the area of cellular biophysics. His work targets a quantitative understanding of the mechanical properties of the cytoskeleton and the microscopic mechanisms of self-organization. He also researches the identification and physical characterization of new biomimetic materials.
After studying physics at TUM and the Université de Montréal, he received his doctorate at TUM (1999). An Emmy Noether scholarship enabled him to study at Harvard University under Prof. D. Weitz. After receiving many invitations from around the world, Prof. Bausch accepted the Chair of Cellular Biophysics at TUM in 2008. He was appointed founding director of TUM's new Center for Functional Protein Assemblies (CPA) in 2015.
Awards
ERC Synergy Grant (2018)
Berlin-Brandenburg Academy Award (2014)
ERC Advanced Grant (2012)
ERC Starting Grant (2011)
Huber L, Suzuki R, Krüger T, Frey E and Bausch AR: "Emergence of coexisting ordered states in active matter systems". Science. 2018; 361(6399): 255-258.
Abstract
Loiseau E, Schneider JAM, Keber FC, Pelzl C, Massiera G, Salbreux G, Bausch AR: "Shape remodeling and blebbing of active cytoskeletal vesicles". Science Advances. 2016; 2: e1500465.
Abstract
Rossetti L, Kuntz L, Kunold E, Schock J, Müller K, Grabmayr H, Stolberg-Stolberg J, Pfeiffer F, Sieber S, Burgkart R, Bausch AR: "The microstructure and micromechanics of the tendon–bone insertion". Nature Materials. 2017; 16: 664-670.
Abstract
Keber FC, Loiseau E, Sanchez T, DeCamp SJ, Giomi L, Bowick MJ, Marchetti MC, Dogic Z and Bausch AR: "Topology and Dynamics of Active Nematic Vesicles". Science. 2014; 345(6201): 1135-1139.
Abstract
Schaller V, Weber C, Semmrich C, Frey E, Bausch AR: "Polar Patterns of driven Filaments". Nature. 2010; 467, 73-77.
Abstract