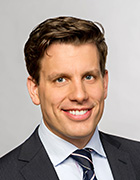 Academic Career and Research Areas
Reiner Braun (b. 1979) primarily conducts research in the fields of innovation funding, venture capital and private equity. Furthermore, he is interested in start-up funding and management.
Braun studied economics in Utrecht and Wuppertal. He received his doctoral degree from the University of Wuppertal where he was based in the Department of Entrepreneurship and Economic Development (2007). Subsequently he acquired his postdoctoral teaching qualification (habilitation) at TUM (2012). Between 2013 and 2015 he held a professorship position in entrepreneurial finance at the University of Erlangen-Nuremberg (Friedrich-Alexander-Universität). Since 2015 he has held the Chair of Entrepreneurial Finance 2 at TUM. His research work has taken him to Oxford (2010), Harvard (2008) and Manchester (2006).
Braun R, Jenkinson T, Stoff I: "How Persistent is Private Equity Performance? Evidence from Deal-Level Data". The Journal of Financial Economics. 2016; forthcoming.
Abstract
Braun R, Crain N, Gerl A: "The Leverage, Pricing and Return Puzzle in Leveraged Buyouts: The Impact of Competition". Working Paper. 2015.
Braun R, Achleitner A, Lutz E, Reiner U.: "Industry Relatedness in Trade Sales and Venture Capital Investment Returns". Small Business Economics. 2014; 43(3): 621-637.
Abstract
Braun R, Achleitner A, Hinterramskogler B, Tappeiner F: "Structure and Determinants of Financial Covenants in Leveraged Buyouts". Review of Finance. 2012; 16(3): 647-684.
Abstract
Braun R, Tumasjan A: "In the Eye of the Beholder: How Regulatory Focus and Self-Efficacy Interact in Influencing Opportunity Recognition". Journal of Business Venturing. 2012; 27(6): 622-636.
Abstract