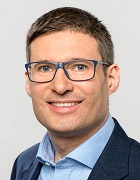 Academic Career and Research Areas
Professor Elsner (b. 1972) develops analytical methods to investigate the fate of chemicals and microorganisms in complex systems. Besides laser analysis, particle analysis, and bio-analytics, research at the Institute of Hydrochemistry is focused on compound-specific isotope analysis to measure isotope effects at natural abundance. Through innovative analytical methods, the Institute contributes to improvements in the management of chemicals in the environment, helps to establish the self-purification potential of natural systems and helps to optimize turnover in technical systems.
Professor Elsner studied chemistry at the University of Freiburg and at ETH Zürich, where he earned his doctorate in environmental sciences in 2003. After postdoctoral research stays at EAWAG and at the University of Toronto, he became leader of a research unit at the Helmholtz Zentrum München, Institute of Groundwater Ecology (2006-17) and completed his lecturer qualification in Analytical Chemistry and Environmental Chemistry at the University of Tübingen in 2011. In 2017 Professor Elsner was appointed to the Chair of Analytical Chemistry and Water Chemistry and was made director of the Institute of Hydrochemistry at TUM.
Awards
Member of the Young Academy of Europe (2015)
ERC Consolidator Grant (2013)
Water Chemistry Prize of the German Chemical Society (GDCh) (2013)
Selected for the "Helmholtz Academy" for Executives (2011)
Helmholtz Young Researcher Grant (2006)
Key Publications
Hoelzer K, Sumner AJ, Karatum O, Nelson RK, Drollette BD, O'Connor MP, D'Ambro EL, Getzinger GJ, Ferguson PL, Reddy ChM, Elsner M, Plata DL: "Indications of Transformation Products from Hydraulic Fracturing Additives in Shale Gas Wastewater". Environmental Science and Technology. 2016; 50(15): 8036-8048.
Abstract
Meyer AH, Dybala-Defratyka A, Alaimo PJ, Geronimo I, Sanchez AD, Cramer CJ, Elsner M: "Cytochrome P450-catalyzed dealkylation of atrazine by Rhodococcus sp. strain NI86/21 involves hydrogen atom transfer rather than single electron transfer". Dalton Transactions. 2014; 43(32): 12175-12186.
Abstract
Fenner K, Canonica S, Wackett LP, Elsner M: "Evaluating Pesticide Degradation in the Environment: Blind Spots and Emerging Opportunities". Science. 2013; 341(6147): 752-758.
Abstract
Penning H, Sørensen SR, Meyer AH, Aamand J, Elsner M: "C, N, and H isotope fractionation of the herbicide isoproturon reflects different microbial transformation pathways". Environmental Science & Technology. 2010; 44(7): 2372-2378.
Abstract
Elsner M, Zwank L, Hunkeler D, Schwarzenbach RP: "A new concept linking observable stable isotope fractionation to transformation pathways of organic pollutants". Environmental Science & Technology. 2005; 39(18): 6896-6916.
Abstract