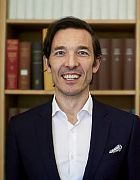 Prof. Dr. Jürgen Ernstberger
Academic Career and Research Areas
The research interests of Professor Ernstberger (b. 1975) include financial accounting, auditing, corporate social responsibility and corporate governance. He explores the effects of financial reporting on business decisions, current developments in auditing, and sustainability and corporate social responsibility reporting.
Professor Ernstberger studied business administration at the University of Regensburg and the Copenhagen Business School. He holds a PhD (2004) and acquired his postdoctoral teaching qualification (habilitation) (2008) from the University of Regensburg. In the 2008/2009 winter term he was appointed to an interim position as professor of accounting and auditing at the University of Göttingen and from 2008 until 2014 he held the Chair of Accounting and Auditing at Bochum University (Ruhr-Universität Bochum). In 2014 he was appointed full professor of financial accounting at the TUM School of Management. He has also held research and teaching positions at Aston Business School (2005), the Rotman School of Management at the University of Toronto (2012 and 2013), St. Petersburg Polytechnic University (2017 and 2019), and Karl Franzens University in Graz (2020).
Awards
Best PhD Supervisor Award 2019, TUM School of Management (2019)
Best Teaching Award Executive Education 2019, TUM School of Management (2019)
Best Paper Award, 10th European Audit Research Net (EARNet) Symposium (2019)
Best Paper Award (runner-up), German Academic Association for Business Administration (2018)
Oskar-Karl-Forster-Scholarship (1998)
Downar, B., Ernstberger J., Koch, C.: "Who makes partner in Big 4 audit firms? – Evidence from Germany". R&R, Accounting, Organizations and Society. 2020; (online early).
Abstract
Downar, Benedikt;Ernstberger, Jürgen;Koch, Christopher: "Determinants and consequences of auditor dyad formation at the top level of audit teams". Accounting, Organizations and Society. 2020; 101156.
Abstract
Ernstberger, J.;Koch, C.;Schreiber, E.M.;Trompeter, G.: "Are Audit Firms' Compensation Policies Associated With Audit Quality?". Contemporary Accounting Research. 2020; 37: 218-244.
Abstract
Axjonow, A.; Ernstberger, J.;Pott, C.: "The Impact of Corporate Social Responsibility Disclosure on Corporate Reputation: A Non-professional Stakeholder Perspective". Journal of Business Ethics. 2018; 151(2): 429–450.
Abstract
Ernstberger J, Link B, Stich M, Vogler O: "The Real Effects of Mandatory Quarterly Reporting". The Accounting Review. 2017; 92(5): 33-60.
Abstract