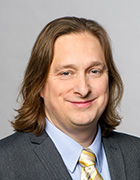 Academic Career and Research Areas
Prof. David Franklin investigates the physiological and computational principles of human neuromuscular motor control. His research examines how the nervous system controls the mechanical properties of the body to adapt to our external environment and produce skilful movement. To examine the computations underlying sensorimotor control, he blends computational and experimental approaches including robotics and virtual reality.

Prof. Franklin studied human physiology and was awarded a doctorate in neuroscience in 2005 from the Department of Kinesiology at Simon Fraser University (Canada). He worked as a researcher at the Institute for Advanced Telecommunications Research (Kyoto, Japan) from 1999 to 2006. He then spent 3 years as a research associate in the Department of Engineering at the University of Cambridge (U.K.). In 2010 he was awarded a Wellcome Trust RCD Fellowship and became a research fellow at the University of Cambridge. He has been an associate professor of Neuromuscular Diagnostics at TUM since 2016.
Awards
Best Paper Award, WeRob Conference (2018)
Wellcome Trust Research Career Development Fellow (2010)
Governor General's Gold Medal, Governor General of Canada (2005)
Research Prize of Japanese Neural Network Society (2002)
Key Publications
Sheahan HR, Franklin DW, Wolpert DM: "Motor planning, not execution, separates motor memories". Neuron. 2016; 92: 773-779.
Abstract
Franklin DW, Reichenbach A, Franklin S, Diedrichsen J: "Temporal evolution of spatial computations for visuomotor control". Journal of Neuroscience. 2016; 36: 2329-2341.
Abstract
Franklin DW, Wolpert DM: "Computational mechanisms of sensorimotor control". Neuron. 2011; 72(3): 425–442.
Abstract
Franklin DW, Burdet E, Tee KP, Osu R, Chew CM, Milner TE, Kawato M: "CNS learns stable, accurate, and efficient movements using a simple algorithm". Journal of Neuroscience. 2008; 28(44), 11165-11173.
Abstract
Franklin DW, Liaw G, Milner TE, Osu, R, Burdet E, Kawato M: "Endpoint stiffness of the arm is directionally tuned to instability in the environment". Journal of Neuroscience. 2007; 27(29), 7705-7716.
Abstract