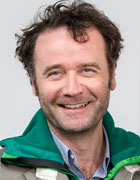 Prof. Dr.-Ing. Christoph Gehlen
Academic Career and Research Areas
Prof. Gehlen (b. 1966) researches in the field of construction materials. The objective of his work is to find ways to describe and predict the lifespan of mineral and metallic building materials taking exposure into consideration.
After studying chemistry and mineralogy in Bonn, he qualified as a civil engineer at RWTH Aachen in 1995. He went on to complete his doctorate at RWTH Aachen in 2000. After that, he founded an international engineering firm in Munich along with two partners. After accepting a Chair at the University of Stuttgart (2006), he succeeded Prof. P. Schießl at TUM in fall 2008. Prof. Gehlen is a member of several panels and committees in Germany and around the world.
Awards
Rüsch-Forschungspreis (2000)
Readymix-Förderpreis (2000)
Borchers Plakette (2000)
Preis der Thyssen-Hünnebek Stiftung (1995)
Key Publications
Gehlen C, Schießl P: "Probability-Based Durability Design for the Western Scheldt Tunnel". Structural Concrete Journal of the fib P1. 1999; 2: 1-7.
Gehlen C: "Probabilistische Lebensdauerbemessung von Stahlbetonbauwerken – Zuverlässigkeitsbetrachtungen zur wirksamen Vermeidung von Bewehrungskorrosion", DAfStb (2000), Heft 510 der Schriftenreihe.
Gehlen C, Sodeikat C: "Maintenance Planning of Reinforced Concrete Structures: Redesign in a Probabilistic Environment, Inspection, Update and Derived Decision Making". Durability of Building Materials and Components, Proceedings of the 9th International Conference , Brisbane, Australia, 17-20th March 2002.
Gehlen C, Weydert R: "Schäden an Parkhäusern und Tiefgaragen - Wahl der geeigneten Instandsetzungsstrategien". Beton 54. 2004; 3: 134-141.
Schießl P, Bamforth P, Baroghel-Bouny V, Corley G, Faber M, Forbes J, Gehlen C et al: "Model code for service life design". fib bulletin. 34; 2006.
print view