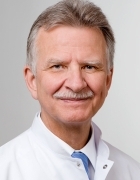 Prof. Dr. Reiner Gradinger
Academic Career and Research Areas
Der Fokus der klinischen Arbeit und Forschung von Professor Gradinger liegt in der Rekonstruktion muskulär-skelettaler Defekte verursacht durch Abnutzungen, Infektionen oder Tumore. Dies schließt tissue engineering wie auch die Entwicklung von Endoprothesesystemen ein, wobei die Biomedizintechnik ein wichtiges Instrument darstellt. Neue Materialien wurden in den Laboren des Fachgebiets Orthopädie hergestellt.
Professor Gradinger (*1947) ist bekannt für herausragende Tumorresektion mit anschließender Rekonstruktion durch individualisierte Implantate. Die weltweit erste Operation im Jahre 1992, in der Becken, Hüftgelenk, Oberschenkelnochen und Kniegelenk ersetzt wurden, führte Professor Gradinger durch.
Awards
President of the German Society of Surgery (DGCH) (2009/2010)
President of the German Society of Orthopaedics and Orthopaedic Surgery (DGOOC) (2005)
Key Publications
von Eisenhart-Rothe R, Gollwitzer H, Toepfer A, Pilge H, Holzapfel BM, Rechl H, Gradinger R: "[Mega cups and partial pelvic replacement]". Orthopade. 2010 Oct; 39(10): 931-41. German. PubMed PMID: 20862576.
Abstract
Rechl H, Wörtler K, Weirich G, Specht K, Gradinger R: "[Soft tissue carcinoma. Epidemiology, diagnostics and therapy]". Orthopade. 2006 Dec; 35(12): 1269-76; quiz 1277. German. PubMed PMID: 17123047.
Abstract
Plötz W, Rechl H, Burgkart R, Messmer C, Schelter R, Hipp E, Gradinger R: "Limb salvage with tumor endoprostheses for malignant tumors of the knee". Clin Orthop Relat Res. 2002 Dec; (405): 207-15. PubMed PMID: 12461376.
Abstract
Gradinger R, Träger J, Klauser RJ: "Influence of various irrigation fluids on articular cartilage". Arthroscopy. 1995 Jun; 11(3): 263-9. PubMed PMID: 7632300.
Abstract
Gradinger R, Rechl H, Hipp E: "Pelvic osteosarcoma. Resection, reconstruction, local control, and survival statistics". Clin Orthop Relat Res. 1991 Sep; (270): 149-58. PubMed PMID: 1884534.
Abstract