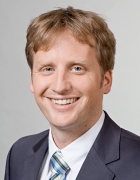 Prof. Dr. Alexander Holleitner
Academic Career and Research Areas
Prof. Holleitner (*1973) conducts research in the field of topological and nanoscale quantum materials, nanofabrication, as well as atomistic optoelectronics of two-dimensional materials and ultrafast on-chip THz electronics.
Prof. Holleitner studied physics at the Ludwig-Maximilians-Universität (LMU) Munich and the University of Nottingham (UK). He received his Dr. rer. nat. in 2002 on coherent states in quantum dots for his work in the research group headed by Prof. Jorg Kotthaus at the LMU. From 2003 to 2005, he was a fellow at the California Nanosystems Institute (CNSI) under Prof. David Awschalom at the University of California, Santa Barbara (USA). He then held a post as Junior Professor of Nanosciences at the LMU's Center for Nanosciences (CeNS), before his appointment to professor at TUM in 2007. Since 2011, he has headed the joint laboratories of the Center for Nanotechnology and Nanomaterials (ZNN) of the Walter Schottky Institute (WSI) at TUM.
Awards
Top Teaching Trophy (T3), Munich School of Engineering (MSE) (2018)
Top Teaching Trophy (T3), Munich School of Engineering (MSE) (2017)
Consolidator Grant "Real-time nanoscale optoelectronics" (NanoREAL), European Research Council (ERC)
Karnetzky C, Zimmermann P, Trummer C, Sierra C, Wörle M, Kienberger R, Holleitner AW: "Towards femtosecond on-chip electronics based on plasmonic hot electron nano-emitters". Nature Comm. 2018; 9: 2471.
Abstract
Seifert P, Vaklinova C, Ganichev S, Kern K, Burghard M, Holleitner AW: "Spin Hall photoconductance in a three-dimensional topological insulator at room temperature". Nature Comm. 2018; 9: 331.
Abstract
Miller B, Steinhoff A, Pano B, Klein J, Jahnke F, Holleitner AW, Wurstbauer U: "Long-lived direct and indirect interlayer excitons in van der Waals heterostructures" Nano Letters. 2017; 17: 5229.
Abstract
Brenneis A, Gaudreau L, Seifert M, Karl H, Brandt MS, Huebl H, Garrido JA, Koppens FHL, Holleitner AW: "Ultrafast electronic read-out of diamond NV centers coupled to graphene". Nature Nanotechnology. 2015; 10: 135.
Abstract
Parzinger E, Miller B, Blaschke B, Garrido JA, Ager JW, Holleitner AW, Wurstbauer U: "Photocatalytic Stability of Single- and Few-Layer MoS2". ACS Nano. 2015; 9 (11): 11302.
Abstract