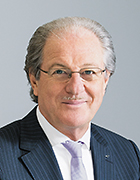 Prof. Dr. Wolfgang Reitzle
Career
Professor Reitzle studied mechanical engineering at TUM. He subsequently received a doctorate for his work in the field of metal physics (1974). Simultaneously, Professor Reitzle completed a second course of study in industrial science and applied economics (1972-1975), also at TUM.
Professor Reitzle joined BMW AG in 1976, where he worked for 23 years. For the last 13 years he was a member of the executive board. During this time he was credited with bringing many of the German automotive manufacturer's most successful products to market.
From 1999 to 2002 Professor Reitzle worked at the Ford Motor Company as Group Vice President. At the same time, he was Chairman and CEO of Premier Automotive Group, London, where he was responsible for the Aston Martin, Jaguar, Lincoln, Volvo and Land Rover car brands.
In 2002 Professor Reitzle was appointed to the executive board of Linde AG, a German DAX-listed company. He became Chief Executive Officer in January 2003. Under his leadership, this diversified technology company has become a leading global industrial gases and engineering company. In 2009 Professor Reitzle was appointed chairman of the supervisory board of Continental AG and in 2012 he was appointed to the board of directors of Holcim Ltd. (Switzerland).
Functions
Chief Executive Officer, Linde AG (since 2003) (since 2002 a member of the executive board)

Group Vice President, Ford Motor Company (1999-2002)

Chairman and CEO, Premier Automotive Group (1999-2002)

Member of the executive board, BMW AG (1987-1999)

BMW AG (1976-1999)
Awards
Entrepreneur of the Year Award, Association of German Magazine Publishers (VDZ) (2010)
Global Leadership Award, American Institute for Contemporary German Studies at Johns Hopkins University (2010)
DSW award for good corporate management (2010)
ADAC "Yellow Angel 2010" award winner in the "personality" category (2010)
Manager of the Year 2006 (awarded by German business magazines "manager" and "Wirtschaftswoche"