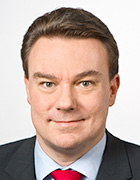 Prof. Dr. Carsten Steger
Career
The research activities of Professor Steger currently comprise all aspects of machine vision, in particular object recognition and feature detection.
Professor Steger studied computer science at TUM from 1987 to 1993, worked as a researcher in TUM's Department of Computer Science (IX) from 1993 to 1999 and received his PhD from TUM in 1998. During this time his main research interests were feature detection and automatic recognition of roads in aerial images.
In 1996 he founded MVTec Software GmbH together with three colleagues from the Department of Computer Science (IX). MVTec is a leading international manufacturer of software for machine vision. At MVTec he is general manager (Prokurist) and head of research and development.
Since 2001 he has been teaching machine vision at TUM's Department of Informatics where he holds lectures and runs lab courses.
Functions
General manager (Prokurist) and head of research and development at MVTec Software GmbH, Munich (since 1999)

Founded MVTec Software GmbH together with three colleagues from the Department of Computer Science (IX) at TUM (11/1996)

Research associate in the Department of Computer Science (IX) at TUM (1993-1999)
Awards
Talbert Abrams Grand Award of the American Society for Photogrammetry and Remote Sensing (with A. Baumgartner, H. Mayer, W. Eckstein and H. Ebner) (2000)
Best Paper Award at the 5th International Conference on Quality Control by Artificial Vision (with G. Blahusch, W. Eckstein and S. Lanser) (1999)