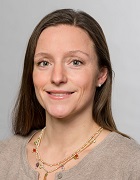 Prof. Dr. Hanna Hottenrott
Academic Career and Research Areas
Hanna Hottenrott's main field of research is innovation economics. Her research examines the innovation policy, science policy and the economics of technological change.
She joined the School of Management of the Technical University Munich as a professor of economics of innovation in May 2016. Hanna Hottenrott holds an advanced degree in economics from the University of Heidelberg and obtained a Ph.D. in applied economics from KU Leuven (Belgium) in 2010. At KU Leuven she was affiliated with the Department of Managerial Economics, Strategy and Innovation and worked on topics relating to the financing of research and development (R&D). After graduating she was awarded a fellowship from the Flemish Science Foundation (FWO) and investigated questions related to R&D and innovation subsidies. From 2013 to 2016 she was an assistant professorship at the Düsseldorf Institute for Competition Economics (DICE) of the University of Düsseldorf.
Awards
TUM School of Management Supervisory Award 2018 for excellent supervisions of PhD students (2018)
Flemish Science Foundation (FWO) Fellowship Award (2010)
Hottenrott, Hanna; Richstein, Robert: "Start-up Subsidies: Does the Policy Tool Matter?". Research Policy. 2020; 49(1): 103888.
Abstract
Hottenrott, Hanna; Lins, Elmar; Lutz, Eva: "Public Subsidies and New Ventures' Use of Bank Loans". Economics of Innovation and New Technology. 2018; 27(8): 786-808.
Abstract
Fudickar, Roman; Hottenrott, Hanna; Lawson, Cornelia: "What's the Price of Academic Consulting? Effects of Public and Private Sector Consulting on Academic Research". Industrial and Corporate Change. 2018; 27(4): 699–722.
Abstract
Hottenrott, Hanna; Lawson, Cornelia: "Fishing for Complementarities: Research Grants and Research Productivity". International Journal of Industrial Organization. 2017; 51(1): 1-38.
Abstract
Hottenrott, Hanna; Lopes-Bento, Cindy; Veugelers, Reinhilde: "Direct and Cross-Scheme Effects in a Research and Development Subsidy Program". Research Policy. 2017; 46(6): 1118-1132.
Abstract