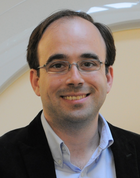 Prof. Dr. Dimitrios Karampinos
Academic Career and Research Areas
Prof. Karampinos' research focuses on the development of new methods for magnetic resonance imaging (MRI). His research group develops MRI acquisition, image reconstruction and signal modeling techniques in order to generate new quantitative MRI biomarkers and to increase the robustness and effectiveness of quantitative MRI biomarkers. The developed methods are being translated into clinical studies for improving the diagnosis, the therapy monitoring, and the understanding of disease pathophysiology in musculoskeletal disorders, in metabolic diseases and in body oncology.
Prof. Karampinos studied engineering at the National Technical University of Athens, Greece. In 2008, he obtained his PhD with a focus on biomedical engineering from the University of Illinois, Urbana-Champaign. Between 2009 and 2012, he was a Postdoctoral Scholar in the Department of Radiology and Biomedical Imaging in University of California, San Francisco. He joined the Department of Diagnostic and Interventional Radiology of TUM in 2012 as a Junior Group Leader and he was appointed to the TUM School of Medicine in 2019.
Awards
ERC Proof of Concept Grant "FatVirtualBiopsy" (2019)
4 Magna Cum Laude Merit Awards at ISMRM Annual Meeting (2019)
Publications featured as Editor's Pick, Magnetic Resonance in Medicine (2017 & 2014)
ERC Starting Grant "ProFatMRI" (2015)
Junior Fellow of ISMRM (2011)
Weidlich D, Honecker J, Gmach O, Wu M, Burgkart R, Ruschke S, Franz D, Menze BH, Skurk T, Hauner H, Kulozik U, Karampinos DC: "Measuring large lipid droplet sizes by probing restricted lipid diffusion effects with diffusion-weighted MRS at 3T". Magnetic Resonance in Medicine. 2019: 27651.
Abstract
Cervantes B, Van AT, Weidlich D, Kooijman H, Hock A, Rummeny EJ, Gersing A, Kirschke JS, Karampinos DC: "Isotropic resolution DTI of lower back nerves using a phase-corrected diffusion-prepared 3D TSE". Magnetic Resonance in Medicine. 2018; 80(2): 609-618.
Abstract
Franz D, Weidlich D, Freitag F, Holzapfel C, Drabsch T, Baum T, Eggers H, Witte A, Rummeny EJ, Hauner H, Karampinos DC: "Association of proton density fat fraction in adipose tissue with imaging-based and anthropometric obesity markers in adults". Nature International Journal of Obesity. 2018; 42(2): 175-182.
Abstract
Karampinos DC, Ruschke S, Dieckmeyer M, Diefenbach M, Franz D, Gersing AS, Krug R, Baum T: "Quantitative MRI and spectroscopy of bone marrow". Journal of Magnetic Resonance Imaging. 2018; 47(2): 332.
Abstract
Ruschke S, Eggers H, Kooijman H, Diefenbach MN, Baum T, Haase A, Rummeny EJ, Hu HH, Karampinos DC: "Correction of phase errors in quantitative water−fat imaging using a monopolar time-interleaved multi-echo gradient echo sequence". Magnetic Resonance in Medicine. 2017; 78(3): 984-996.
Abstract