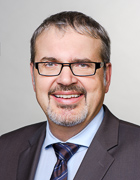 Prof. Dr. Christoph Kaserer
Academic Career and Research Areas
Professor Kaserer (1963) conducts research on corporate financing, capital markets and financial intermediation. His work relies heavily on empirical data and focuses on the effectiveness of capital market information in investment decisions and asset management. He is also an expert on regulatory issues. He has been a member of the Group of Economic Advisors of the European Securities and Markets Authority (ESMA) since 2016.
Dr. Kaserer earned his undergraduate degree in economics from the University of Vienna (1988) and acquired his postdoctoral teaching qualification (habilitation) at the University of Würzburg (1998). In 1999 he was appointed Chair of Financial Management and Accounting at the Université de Fribourg, Switzerland. From 2005 to 2010 he served as Dean of the TUM School of Management. In the Social Science Research Network's worldwide download rankings, he has been in the top 5% of authors in the field of business administration for years.
Buchner A, Kaserer C, Wagner N: "Modelling the Cash Flow Dynamics of Private Equity Funds – Theory and Empirical Evidence". J. of Alternative Investing. 2010; 12: in press.
Kaserer C, Dickgießer S: "Market Efficiency Reloaded – Why Insider Trades do not Reveal Exploitable Information"; German Economic Review. 2010; 10: in press.
Diller C, Kaserer C: "What Drives European Private Equity Returns? Fund Inflows, Skilled GP's, and/or Risk?" European Financial Management. 2009; 15: 643-675.
Abstract
Kaserer C, Klingler C: "The Accrual Anomaly under Different Accounting Standards – Lessons Learned from the German Experiment." J. of Business Finance and Accounting. 2008; 35: 837-859.
Abstract
Bühner T, Kaserer C: "The Structure of External Financing Costs and the Economies of Scale View – New Evidence from Seasoned Equity Offerings in Germany". European Financial Management. 2002; 8: 315-338.
Abstract