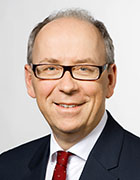 Prof. Dr. Percy A. Knolle
Academic Career and Research Areas
Professor Knolle's (*1962) area of expertise is the regulation of immune responses in peripheral tissues. His work focuses on the molecular mechanisms by which tissue-resident immunocompetent cells control effector T cell responses as the basis for the development of new immunotherapies.
Prof. Knolle studied medicine at the Universities of Frankfurt, Birmingham (UK), Geneva and Strasbourg, completing his MD thesis at the German Cancer Research Center in Heidelberg. He later specialized in internal medicine and hepatology at the University Hospital Mainz. Beginning in 1997, he was Junior Research Group leader at the Center of Molecular Biology Heidelberg. In 2002, he was appointed to a full professorship in Molecular Medicine and became the founding director of the Institute of Molecular Medicine and Experimental Oncology at the University of Bonn. He also served as co-coordinator of the collaborative research center (SFB 704) and excellence cluster ImmunoSensation. In 2013, he was appointed to a full professorship and named founding director of the Institute of Molecular Immunology at TUM.
Key Publications
Beyer M, Abdullah Z, Chemnitz J M, Maisel D, Sander J, Lehmann C, Thabet Y, Shinde P V, Schmidleithner L, Kohne M, Trebicka J, Schierwagen R, Hofmann A, Popov A, Lang K S, Oxenius A, Buch T, Kurts C, Heikenwalder M, Fatkenheuer G, Lang P A, Hartmann P, Knolle PA, Schultze JL: "Tumor-necrosis factor impairs CD4(+) T cell-mediated immunological control in chronic viral infection". Nature Immunology. 2016; 17: 593-603.
Abstract
Böttcher J P, Schanz O, Wohlleber D, Abdullah Z, Debey-Pascher S, Staratschek-Jox A, Hochst B, Hegenbarth S, Grell J, Limmer A, Atreya I, Neurath M F, Busch D H, Schmitt E, van Endert P, Kolanus W, Kurts C, Schultze J L, Diehl L, Knolle PA: "Liver-Primed Memory T Cells Generated under Noninflammatory Conditions Provide Anti-infectious Immunity". Cell Reports. 2013; 3: 779-795.
Abstract
Huang L R, Wohlleber D, Reisinger F, Jenne C N, Cheng R L, Abdullah Z, Schildberg F A, Odenthal M, Dienes H P, van Rooijen N, Schmitt E, Garbi N, Croft M, Kurts C, Kubes P, Protzer U, Heikenwalder M, Knolle PA: "Intrahepatic myeloid-cell aggregates enable local proliferation of CD8(+) T cells and successful immunotherapy against chronic viral liver infection". Nature Immunology. 2013; 14: 574-583.
Abstract
Burgdorf S, Kautz A, Bohnert V, Knolle PA, Kurts C: "Distinct pathways of antigen uptake and intracellular routing in CD4 and CD8 T cell activation". Science. 2007; 316: 612-616.
Abstract
Limmer A, Ohl J, Kurts C, Ljunggren H G, Reiss Y, Groettrup M, Momburg F, Arnold B, Knolle PA: "Efficient presentation of exogenous antigen by liver endothelial cells to CD8+ T cells results in antigen-specific T-cell tolerance". Nature Medicine. 2000; 6: 1348-1354.
Abstract