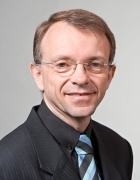 Academic Career and Research Areas
Prof. Kühn's areas of research are organometallic chemistry, medicinal chemistry and molecular catalysis. Mechanistic behavior, practical and industrial uses of efficient catalysts are of prime interest. Prof. Kühn cooperates with several industrial companies on applied catalysis projects.
F. E. Kühn studied chemistry at TUM, obtaining his doctorate in the group of W. A. Herrmann in 1994 as fellow of the Hermann Schlosser-foundation (Degussa AG). A Feodor Lynen Research Fellowship of the Humboldt Foundation enabled him to work with Prof. F. A. Cotton at Texas A & M University, USA (1995/96) as postdoctoral research associate. In 2005, he became principal researcher of organometallic chemistry and catalysis at the Instituto Technologico e Nuclear (ITN) in Sacavém, Portugal. In 2006, he was appointed professor of molecular catalysis at TUM. From 2007-2015 he served additionally as acting Chair of Inorganic Chemistry. Prof. Kühn is faculty graduate dean, faculty dean of international affairs member of the board of the TUM Graduate School and of TUM CREATE in Singapore. He is author or co-author > 400 scientific publications and has filed 10 patents, Hirsch index 51 (March 2016).
Awards
Gastprofessur an der National University of Singapore (2008)
Hans Fischer-Preis der Hans Fischer-Gesellschaft (2003)
Otto Roelen-Medaille der DECHEMA (1999)
Key Publications
Putzien S, Nuyken O, Kühn FE: "Functionalized polysilalkylene siloxanes (polycarbosiloxanes) by hydrosilylation - catalysis and synthesis". Progress in Polymer Science. 2010; 35: 687-713.
Abstract
Betz D, Raith A, Cokoja M, Kühn FE: "Olefin Epoxidation with a New Class of Ansa-Molybdenum Catalysts in Ionic Liquids". ChemSusChem. 2010; 3: 559-562.
Abstract
Rach SF, Kühn FE: "Nitrile ligated transiton metal complexes with weakly coordinating counteranions and its catalytic applications". Chem. Rev. 2009; 109: 2061-2080.
Kühn FE, Santos AM, Abrantes M: "Mononuclear organomdybdenum (VI) dioxo complexes: Synthesis, reactivity and catalytic applications". Chem. Rev. 2006; 106: 2455-2475.
Santos AM, Romão CC, Kühn FE: "(2-alkyne)methyl(dioxo)rhenium complexes as aldehydeolefination catalysts". J. Am. Chem. Soc. 2003; 125: 2414-2415.
Abstract